1 EDI Source and Zethcon Partner to Leverage EDI for the Supply Chain...
Cleveland, Ohio (PRWEB) September 24, 2013
1 EDI Source, Inc., the leading provider of electronic data interchange[1] (EDI) software and Software-as-a-Service (SaaS) solutions, proudly adds Zethcon to its growing list of partners. Zethcon will refer 1 EDI Source's EDI software, integration and mapping services to prospective and existing clients.
Zethcon's Synapse™ WMS solution combined with EDI/HQ™ allows warehouse operations to seamlessly integrate with multiple customer host systems. This is ideal for accounts that ship high volumes direct to consumers or to big-box retailers that have complex compliance requirements. By reducing or eliminating human data entry and potential errors, the cost to process orders is greatly reduced.
"Since Zethcon's entry into the warehousing industry more than 30 years ago, the company has worked to bring innovation and improvements to its third-party logistics (3PL) clients and has maintained an outstanding track record for customer satisfaction," said Tera Mitter, director of sales, 1 EDI Source. "We believe this partnership will effectively leverage complementary opportunities while providing market-leading customer service."
Beyond fast-growing penetration of the 3PL industry, 1 EDI Source and Zethcon are seeking additional ways to enhance the client experience and capabilities of its advanced technology. The partnership offers compliancy and data integration with a long list of trading partners including Amazon.com, Bed Bath & Beyond and Wayfair. The addition of Zethcon to the 1 EDI Source Partner Program[2] positions the EDI technology provider the opportunity to offer a seamlessly integrated solution to the supply chain industry.
About 1 EDI Source, Inc.
1 EDI Source, Inc. is the leading provider of EDI software and Software-as-a-Service (SaaS) solutions. For more than 20 years, the company has served the needs of businesses ranging in size from single-person operations to Fortune 500 corporations. Clients spanning various industries including health care, manufacturing and retail rely on 1 EDI Source for proven, easy-to-use software, cloud-based solutions, data mapping applications, and comprehensive consulting and outsourcing services. Visit http://www.1edisource.com[3] for more information.
About Zethcon
Zethcon is a world-class provider of supply chain execution services and software that understands the warehousing business inside and out. The company helps logistics companies identify and capitalize on opportunities that ensure profitability and longevity by using warehouse management system (WMS) information technology to make their business better and gain a powerful competitive weapon. Visit http://www.zethcon.com[4] for more information.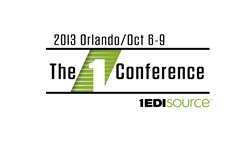 Read more http://www.prweb.com/releases/1EDISource/partner_program_Zethcon/prweb11118472.htm