Lavu iPad POS Weighs In Big With Restaurants That Use Scales For...
Albuquerque, New Mexico (PRWEB) October 09, 2013
Lavu Inc., makers of the very first full-featured point of sale for iPad, has released an iPad POS[1] with an integrated portion control scale. This solution is expected to be popular because it improves what was previously a complicated and inefficient workflow to a single button press.
"Adding a fully integrated portion control scale to your POS Lavu system will vastly improve the efficiency of your operation," said Steve Brown from Zephyr Hardware. "Rather than weighing product and manually entering the weight into your POS system, this integration enables the BluTooth scale to communicate directly with your POS Lavu system. It has never been so easy to operate your business."
The Lavu iPad POS with NTEP approved scale integration was developed specifically for frozen yogurt shops, candy stores, delis, and other business models that sell goods by weight. The most commonly used scales can accept weights up to ten pounds, though options that can handle up to twenty pounds are available.
NTEP approved scales are intended by the manufacturer for use in commercial applications where products are sold by weight. In most states, NTEP certified scales are a requirement for any business that is selling something by weight. More information about the Lavu portion control scale can be found at the Zephyr Hardware website[2].
About Lavu Inc. Founded in Albuquerque, NM and operating worldwide, Lavu Inc. was formed as a solution to common point of sale problems and restaurant industry issues. Lavu Inc. offers POS Lavu as a full-featured point of sale[3] at a fair price. Through cloud computing, wireless mobility and multi-touch devices, POS Lavu redefines the entire approach to service industry business management.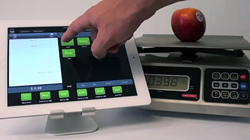 Read more http://www.prweb.com/releases/2013/10/prweb11016288.htm