Pirq Launches the Simplest Digital Loyalty Program in the Nation
Kirkland, Washington (PRWEB) October 17, 2013
Today Pirq, a Seattle-based startup that provides mobile and social customer relationship management software for small businesses, announced that its Digital Loyalty program is officially available to all merchants nationwide starting at only $14.95. This is the first time a small retail or restaurant business owner can effectively capture customer information at the point of sale and remarket personalized rewards and incentives to them. This new program allows merchants to eliminate the need for paper punch cards, and instantly create their own digital loyalty program right from their computer. And unlike other digital loyalty programs, Pirq's new program does not require any additional hardware or tablets, nor does it require POS integration. It's the simplest and most cost effective mobile loyalty program available in the nation.
For the past several months Extreme Pita in Kennewick, WA has been utilizing Pirq's innovative mobile loyalty program to reward their customers and the results have been tremendous. "We have over 800 customers on the program and they are really enjoying Pirq's loyalty program because it's so easy to use," said Extreme Pita owner, Mike Noftle. They simply download the free Pirq app, and scan our Microsoft Tag each time they visit our restaurant. No more hassling with paper punch cards, which is a huge plus for our customers and staff. Additionally, I have access to an online dashboard to see my customer traffic for each day, which incentives are driving customers to return, and much more. Everyone has been pleased with Pirq's program so far."
To get started, merchants can visit http://www.Pirq.com[1] and easily create their own loyalty program. After completing the short online form, business owners can print out a custom Microsoft Tag right from their own computer, and have their Pirq Digital Loyalty program live the same day. The whole process takes only a few minutes, and merchants are then able to leverage the explosive growth of smartphones, and utilize a mobile loyalty program that drives measurable results.
"In today's marketplace consumers are seeking programs that are easy to use, and are relevant to their wants and needs," said Keegan Hall, Pirq's VP of Sales and Marketing. "There is a huge opportunity for business owners to take advantage of the growth of mobile to connect with their customers in a new way, and that's one of the many benefits that Pirq delivers. The business owners who have already implemented a mobile loyalty program are the ones benefitting the most from this relatively new channel, and Extreme Pita is a perfect example of this."
###
About Pirq:
Pirq is a free smartphone app that provides consumers with a convenient, digital way to earn amazing rewards and get instant deals at local businesses. With Pirq, consumers can easily manage your punch cards and search for nearby offers – all right on their phone! At the same time, Pirq's patent-pending SmartYield™ program delivers tremendous value to merchants through enhancing customer loyalty, increasing customer frequency, and optimizing off-peak hours to add profit to their bottom line. The best part: every time a Pirq deal is redeemed, a charitable donation is made to feed someone in need.
Website: http://www.pirq.com | Twitter: @Pirqcom | Facebook: http://www.facebook.com/pirqcom[2][3]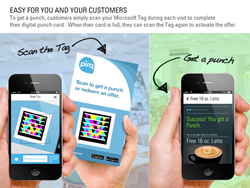 Read more http://www.prweb.com/releases/2013/10/prweb11238851.htm