Embrace Bring Your Own Device (BYOD) with Synactive Liquid UI for iOS
Foster City, CA (PRWEB) October 22, 2013
With the continued growth of enterprise mobility, bring your own device (BYOD) initiatives are becoming the focus, and companies need more help than ever to manage policy, security and support. Synactive Inc. announced today that its new release of Synactive Liquid UI® for iOS[1] includes mobile device management (MDM), the ability to attach pictures or movies to documents in SAP® software and master records through using object services provided by SAP, a new modernized look, and usability improvements to increase master data quality. Liquid UI for iOS implements patented connectivity with functions similar to those of SAP GUI but visualized on the iOS device, enabling efficient and effective connectivity to the SAP ERP application at your fingertips without deep technical development. Desktop transactions[2] can be customized by aggregating screens, tabs and transactions, including eliminating and renaming fields, by using proven GuiXT WS technologies.
The new MDM Profile Management feature in Liquid UI for iOS manages user and device access to SAP ERP. Through the device's email application, the Liquid UI app licenses are deployed with a simple click. For new applications and upgrades, the Liquid UI platform[3] provides central deployment without provisioning each device individually. And now IT departments can remotely wipe out any configuration and disable access from that device to SAP ERP in the event a user leaves the company.
"BYOD is a reality and mobile device management is no longer optional but required to control devices as more business applications are allowed to access corporate infrastructures," said Shengchi Huang, Engineering Director, Synactive, Inc. "Security and license/application management to administer licenses, deploying new UI changes to your field workers, or disabling access through centralized management are key elements of BYOD policies."
"Profile management is yet another step in adding to our unified UI strategy with one platform, one common look, one development effort, and now one single source of device management," said Thomas Ewe, Synactive's CEO. "Our customers want a seamless user experience whether they are using iOS devices, Android devices, SAP GUI on the desktop, Web browsers remotely, or offline, disconnected situations. Providing access to SAP software at your fingertips anytime, anywhere with centralized, rapid deployment throughout large enterprises provides a non-disruptive business solution."
To help businesses and organizations deliver a modern and insightful employee experience, Synactive also introduced a new UI Theme Manager, Smart Action Button, and Picture/Movie Attachments to engage employees to perform better and smarter.
UI Theme Manager for a cleaner look
Mobile users can now apply different themes to modernize the user interface. Selecting from a new "Tile Theme" displays a modernized GUI for accessing SAP software, adding to the Liquid UI consolidation technology for a clean and simple mobile interface.
Smart Action Button at your fingertip
New smart action button detects the appropriate action required (e.g. Save, Return, Execute) for that screen, instead of having to navigate to find the action. Having the action button in the upper corner makes it quick, eliminating incorrect actions which can cause master data inconsistencies.
Add Picture/Movie Attachments to transaction documents and master records
Object services functionality is now available to mobile users. Add a picture of a barcode label for later printing, or a picture of an employee to an HR record. Integrated with the device's camera, pictures can be added to notifications to ensure proper recording and documentation for regulatory compliance.
Today's announcement was made at the SAP TechEd Las Vegas conference, being held Oct. 21-25, where Synactive is exhibiting in booth 156.For more information, visit Synactive's website at http://www.liquid-ui.com[4]
About Liquid UI® Software
Liquid UI[5] is a unified UI platform that enables users to work seamlessly across all touchpoints whether they are using SAP GUI, SharePoint, SAP NetWeaver® Business Client software, HTML5 Web browsers, PDF documents, Excel spreadsheets, mobile devices such as smartphones, tablets, RFID tag readers, barcode scanguns or offline devices. With patented connectivity technology,Liquid UI software provides quick access to SAP software by supporting transactions on mobile devices, or with Synactive's screen-combine technology, an efficient user experience with SAP applications.
###
SAP, SAP NetWeaver, and all SAP logos are trademarks or registered trademarks of SAP AG in Germany and in several other countries. All other product and service names mentioned are the trademarks of their respective companies.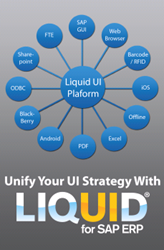 Read more http://www.prweb.com/releases/2013/10/prweb11254677.htm