Startup 'Missing Link' Releases Digital Lost and Found for Personal...
Henderson, NV (PRWEB) December 17, 2013
People have been marking things as theirs for hundreds of year - whether it be engraving a surname on their sword or mothers writing their son's name in his underwear, people have marked items showing ownership in case something was lost or stolen. But a name alone doesn't do much these days if an item is lost or stolen.
A new startup called Missing Link has released a new digital lost and found solution to change all of that with MissingLink.com[1]. Missing Link has merged modern technology with social media to solve peoples' everyday issue of lost, phones, tablets and airline luggage. While there are apps for lost mobile electronics, those apps are virtually useless when the electronics battery dies.
Missing Link offers security labels and luggage tags that are linked to owner profiles on the Missing Link website[2]. A unique identification number (UID#) and QR code is assigned to each individual tag and label so that if an item is lost or stolen, the label is always active and the owner can be directly notified via their online profile.
Things are known to get lost very easily in airports, so much that the airports themselves and Travelers Aid[3] both suggest that people put their names on everything, including checked and carry-on luggage, laptops/camera bags, cell phones, etc. With Missing Link, lost or stolen items are easily identifiable so the owner can be contacted to retrieve the item quickly and easily. If someone finds a lost item, they simply scan the QR code or enter the UID# on the Missing Link website and contact the owner directly to arrange the return.
"Missing Link offers a simple and affordable way to keep track of your most valuable and important pieces of property. A person can quickly create a profile on our website and easily keep track of all their valuables," explains Luis Villalobos Jr., co-founder of Missing Link. "Our goal is to make peoples' lives easier and less stressful, while cutting down on digital waste and costly replacement products. We are thrilled to see Missing Link take off and become a widely used solution for people all over the world."
About Missing Link
Missing Link has created an award-winning lost and found service for today's digital age. With social media networks for everything from friendship to business, our team of visionaries created as the world's newest social media platform to link users with their belongings. Missing Link Security Labels and Luggage Tags bridge the gap between the owner and their most important possessions so that in the event that anything is lost or misplaced, the owner can be directly contacted via their profile on MissingLink.com. Our free subscription service is ideal for individuals and companies alike – whether it's for one product or 10,000. We are today's global solution for asset labels. Welcome to the future of lost and found.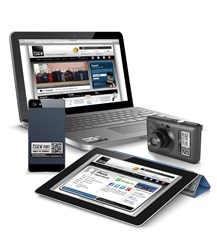 Source http://www.prweb.com/releases/2013/12/prweb11425577.htm