ASAP Systems Announces a Product Update Including Added Configurations...
San Jose, CA (PRWEB) December 17, 2013
ASAP Systems, a market leader in inventory management[1] and asset tracking systems, today announced that its online application, BarCloud, released a new update that expands the functionality on the BarCloud mobile app.
With a few clicks of a button on the BarCloud mobile app for smartphones and tablets, companies can easily create and add new model numbers, locations, persons, and vendors instead of logging into the BarCloud web application[2] to do this functionality. In other words, you do not need to keep signing back into the BarCloud web app to do this, this function can be easily and quickly be done on the mobile.
ASAP Systems also releases the ability to set asset check out and in[3] configurations to automatically select where an asset is checked back into such as home location, location checked out from, or user selected location. Thus, saving time by having the BarCloud mobile app automatically select the set location instead of manually selecting the location every time a transaction is performed.
"The new product updates automate the process of repetitive asset check-in transactions and provides users with more flexibility with being able to create new model numbers, locations, persons and vendors all on the BarCloud mobile app using smartphones and tablets," says Greg Wachowiak, Director at ASAP Systems.
With the new advanced product updates, BarCloud continues to provide businesses the proficiency to manage inventory and track assets online quickly and easily using barcodes. With the BarCloud mobile app on iPhones, Androids and tablets, businesses are able to control their inventory and assets quickly and easily when they are received, stored, used and disposed of in the field.
ASAP Systems' BarCloud also allows customers to choose specific features and modifications that fulfill their business practices such as asset check out-in and the ability to track stock inventory with batch-lot numbers and date codes. With BarCloud, companies are allowed to edit field names, customize reports, set up role based user access, and gain business intelligence with built-in analytic charts.
About ASAP Systems
We are ASAP Systems, a market leader in inventory management and asset tracking systems that uses barcode and RFID technology with Motorola mobile barcode scanners, smartphones and tablets. We help improve profitability by eliminating manual data entry, paper files and forms and by automating record keeping. With our software, businesses know 24/7 how and where assets and inventory are received, stored, used and disposed of in the warehouse, in the field and in the office.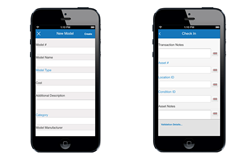 Source http://www.prweb.com/releases/2013/12/prweb11428016.htm
Get The Bar Code News once a month, once a week or once a day. Subscribe here.
Follow us on Twitter: https://twitter.com/TheBarCodeNews
Follow us on Facebook: https://facebook.com/TheBarCodeNews