ASAP Systems Helps Servpro of St. George Track Assets and Inventory...
San Jose, CA (PRWEB) January 07, 2014
Servpro of St. George restoration service in St. George, Utah, one of 1,600 Servpro franchise locations, specializes in the cleanup and restoration for residential and commercial structures damaged by fire and water.
The commercial and residential disaster recovery industry requires the use of expensive, specialized equipment stored in warehouses between jobs. It was a challenge to manually track this equipment and to track consumable inventory used at different jobsites. Much of the inventory included items from chemicals, rubber gloves, and personal protective equipment suits to expensive assets[1] like air movers, dehumidifiers, and steamers. Servpro was experiencing productivity losses due to manual information entry, human error, and the lack of report sharing.
"We were losing equipment when we went from jobsite to jobsite," said Shane Darger, Mitigation Estimator and Project Manager. "In fact, we found equipment at a jobsite that we hadn't been to for over a year."
ASAP Systems recommended Passport, an efficient inventory tracking system[2] with the use of barcode technology and barcode scanners. Passport helps Servpro of St. George monitor the amount of inventory on hand by alerting them when inventory levels get too low or too high. Other inventory items used on specific jobsites are efficiently tracked and reported on, enabling management to invoice clients appropriately on consumables used on a particular project. Additionally, Passport provides the ability to not only track standard inventory, but all types of inventories, such as serialized, batch-lot items with expiration dates, and serialized with quantity.
By automating Servpro's inventory with Passport, human errors and the amount of equipment lost were drastically reduced.
"We work with a variety of companies and franchises within the disaster recovery industry. Passport is an easy-to-use, configurable, and scalable system that meets all equipment and inventory tracking requirements," said Elie Touma, President and CEO of ASAP Systems.
Click here[3] to watch a video on how Servpro of St. George utilizes Passport to have complete control over its inventory operations.
About ASAP Systems
ASAP Systems is a market leader in inventory management and asset tracking systems that uses barcode and RFID technology with Motorola barcode scanners, smartphones and tablets. We help improve profitability by eliminating manual data entry, paper files and forms and by automating record keeping. With our inventory and asset software, businesses know 24/7 how and where assets and inventory are received, stored, used and disposed of in the warehouse, in the field and in the office.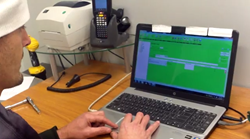 Source http://www.prweb.com/releases/2014/01/prweb11464206.htm