NFC Enabled Transport Management Solution - TickTrack by Aditium
Madrid, Spain (PRWEB) January 28, 2014
Aditium[1], a software development company specialized in mobile solutions for transport, events and retail, announced today that Madrid-based Jiménez Dorado has selected Ticktrack[2] for their private commuter buses. Starting in March over 10,000 commuters in Madrid will be using the new fare collection system on a daily basis to get to work. Commuters include employees from Banco Santander, Coritel, FNAC, Maersk, Microsoft, Orange and Symantec among others.
Eneko Arza, CEO of Aditium, said, "Smartphones today have vast productivity potential, our goal is to help businesses of any size harness the power of mobile technology by creating intelligent business solutions."
Ticktrack's custom software is designed for transport companies seeking to update fleet management solutions at a fraction of the cost of traditional contactless reader infrastructures. The solution harnesses the capability of NFC host card emulation to turn a smartphone into a contactless card reader. To validate a fare, commuters simply hold their employer issued transit card over the driver's smartphone when entering the bus and the trip is registered to the online server.
"From the very beginning we saw the potential of NFC to solve our needs, directing a fleet of buses across the busy city of Madrid during rush hour with sometimes up to 800 passengers at each stop was a complex task, with Ticktrack our operators can make better decisions that improve the efficiency of our fleet and identify new ways to improve our services," said Rafael Jimenez Dorado, director, Autobuses Jiménez Dorado.
Ticktrack communicates with a remote online server to provide information about the number of passengers and the location of each bus in real-time. All data is logged into the system and can be accessed by the system administrator remotely through a control panel. The cloud-based software is easy to install, implement and scale, offering remote maintenance and updates.
Ticktrack's closed-loop system offers functionality, even when internet connection is lost temporarily due to network overload or areas with poor WiFi. Ticktrack is compatible with contactless cards and NFC smartphones or devices. Optional features include two-way communication, allowing the administrator to send a message to the fleet for important notifications such as traffic jams or unexpected delays and the ability to develop applications for mobile phone users such as real-time arrival schedules and route planners.
About Aditium
Aditium is a mobile software development company that creates professional solutions based on mobile and contactless technology for transport, events and retail. The company based in Bilbao, Spain was founded in 2012 and specializes in identification, access control, mobile marketing, geolocation solutions and contactless payments. For more information go to http://www.aditium.com/ [3]
About Jiménez Dorado
Autocares Jiménez Dorado is a third generation family run transportation business based in Madrid. Over 15,000 commuters use their services every day to get to work. With one of the most advanced fleets in Madrid and Barcelona, Jiménez Dorado provides urban, interurban and long-distance transportation both national and international. For more information go to http://www.jimenezdorado.com[4].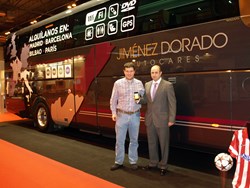 Source http://www.prweb.com/releases/2014/01/prweb11519592.htm