"Is Your Data Integration Hitting it Out of the Ballpark?"
New York, NY (PRWEB) February 26, 2014
Enhanced Retail Solutions (ERS), a leading provider of Software-as-a-Service (SaaS) retail analytic and demand planning solutions to suppliers and their retail trading partners, today announced their participation in a Liaison Technologies Webinar entitled: "Is Your Data Integration Hitting it Out of the Ballpark?".
Most vendors would note their achieved efforts when asked if they integrate with, or study, their business at their larger retailers. They are not wrong, yet there is a big difference between a "swing and a miss" and a "home run".
In this webinar, Liaison Technologies will provide an overview of integration options available and Enhanced Retail Solutions will demonstrate the different levels of this discipline, and the resources available to help those efforts. Highlighted data sources will include EDI 852 point of sale documents[1], ERP extracts, US Census Bureau, and weather. Additionally, case study results outlining deeper level of analysis will be discussed.
The webinar will be held on Tuesday, March 11, 2014 at 10:00 AM - 11:00 AM PDT.
Reserve your Webinar seat can be reserved at: https://www1.gotomeeting.com/register/351967673[2].
"We are excited to participate in this webinar," said David Matsil, President of Business Development at Enhanced Retail Solutions. "We are eager to show the difference between executing Retail Analysis at a cursory level as compared to the benefits derived by a full on disciplined effort."
About Enhanced Retail Solutions LLC:
Enhanced Retail Solutions is a software and consulting firm specializing in retail analysis and Demand Planning for the manufacturer and their retail partners. ERS' state of the art software tools and consulting deliver critical data quickly, easily and cost effectively, adding over one hundred million dollars to their clients' bottom line. ERS' broad customer base includes industry leaders in the electronics, consumer products, apparel, footwear, home textile, toy, home décor, home improvement, housewares, jewelry and food industries. Headquartered in New York City, Enhanced Retail Solutions has offices in the Dallas, TX and development in the US, Cork, Ireland and Delhi, India. For more information, visit http://www.EnhancedRetailSolutions.com[3].
About Liaison Technologies:
Liaison Technologies is a global integration, data management and data security company. It provides unique and high-value services to move, transform and manage business information in the cloud, and to protect data to help organizations master complex security challenges and meet compliance mandates. With a comprehensive array of business-to-business and application-to-application integration and data transformation services, as well as on-premise and cloud-based data security solutions, Liaison's practitioners implement data management infrastructures adapted to each client's specific business requirements. Headquartered in Atlanta, Liaison has offices in the Netherlands, Finland, Sweden and the United Kingdom. For more information, visit http://www.liaison.com[4].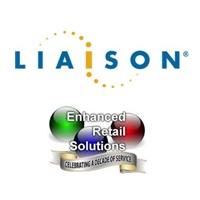 Source http://www.prweb.com/releases/2014/02/prweb11611695.htm