BlueStar Offers Unitech SRD650
Unitech's SRD650 Features Built-In Applications and Gives Users the Power to Create Their Own
7 March 2014 - Hebron, Ky. BlueStar, a leading global distributor of ADC, Mobility, Point-of-Sale, RFID, Digital Signage, and Security technology solutions, announced today it will offer the SRD650, a mobile computer with unmatched 'out-of-the box' functionality. The SRD650, manufactured by Unitech, promises to be one of the most complete, user-friendly handheld devices available.
The "SRD" in its name stands for "Solution Ready Design." Unitech has pre-installed four of the most popular and useful mobile applications at no additional cost: a barcode comparison, memory scanner, asset tracker, and inventory manager-but the SRD650 also comes with access to the powerful Kalipso Application Generator. Users can customize Unitech's applications or create their own, which gives the SRD650 unparalleled flexibility and value. Unitech also provides training videos to make editing or creating applications as simple as possible.

Scott Chung, President of Unitech America, pointed out that not only will users save time and money on software development, they can also enjoy complete control over their own data collection applications. "Customer satisfaction is very important to Unitech," he said, "and the release of our new SRD650 is a great example of our dedication to an easy, out of the box user experience."

The SRD650 is Unitech's first complete solution, and features a rugged design that withstands moisture, dust, and four-foot drops onto concrete. Its design makes it easy to transfer data to a host computer via USB, Bluetooth, or WiFi. Lightweight and designed for one-hand operation, it's equipped with a 1D laser, a 2.4" color QVGA touch screen, and a large scanning key for easy operation.
Joe Easton, Business Development Manager for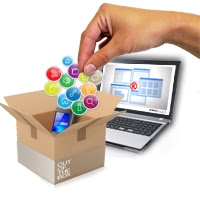 Unitech at BlueStar, says the SRD650's competitive price is only one of its many advantages. "It frees up time, money, and resources that you can dedicate to other aspects of your business. This is so much more than a standard mobile computer."
ABOUT UNITECH
Founded in 1979 in Taipei, Taiwan, Unitech has grown into a successful global corporation manufacturing a wide range of AIDC products including barcode scanners, enterprise mobile computers, and time management and access control devices.
With its core values of Honesty, Integrity, Collaboration, Excellence, and Profit-Sharing, Unitech combines advanced invention with thoughtful, responsive service, creating a win-win future for its associates and partners.
ABOUT BLUESTAR
BlueStar is the leading global distributor of solutions-based ADC, Mobility, Point-of-Sale, RFID, Digital Signage, and Security technology. BlueStar works exclusively with value-added resellers, providing them with complete solutions, business development and marketing support. The company brings unequaled expertise to the market, offers
award-winning technical support and is an authorized service center for a growing
number of manufacturers. BlueStar is the exclusive distributor for the In-a-Box Solutions Series , delivering hardware, software and critical accessories in one bundle with technology solutions across all verticals. For more information, please contact BlueStar at 1-800-354-9776 or visit www.bluestarinc.com.