DuraLabel Introduces Wide Format Print Station: the DL 9000 PS
Portland, OR (PRWEB) April 16, 2014
The 10-inch touch screen tablet on the side of the DuraLabel 9000 PS[1] comes completely loaded with OSHA-ANSI compliant software. The DuraLabel 9000 PS is seated in an adjustable bracket for ergonomic efficiency and ease of use. Use the pointer stylus to navigate the touch screen or the optional keyboard with track pad to create and print labels and signs at your convenience.
Its heavy duty rugged design is ideal for harsh industrial environments such as mines, construction sites, warehouses, distribution centers and oil rigs where wall-sized safety signs and labels can aid in communicating hazard and danger warnings. The large format labeling system was designed to generate site-specific arc flash labels[2], pipe markers, barcodes and other workplace visual communications which can be easily seen from a distance.
"We see this as an excellent labeling system for both heavy industrial and lean manufacturing applications," said Steve Stephenson, Graphic Products.
The unit provides 300 dpi print resolution, prints on 4" – 9" supply widths and at 3" per second.
Key features and accessories include:

    3 USB ports, USB cable, AC adaptor with power cord and power cord extension
    160 GB hard drive
    1 GB Ram
    2 hour battery life
    All inclusive software: DuraSuite labeling software, OpenOffice, EZBarCode, MS calculator, VLC media player, Acrobat Reader 9.0
    Full size QWERTY keyboard
    Touch screen pointer stylus
The last six months have been a period of great innovation for Graphic Products. Earlier this year, the company released its first full-color LED printer. The DuraLabel Catalyst was designed to create full-color industrial labels including GHS/HazCom 2012[3], arc flash, NFPA, and standard OSHA-compliant warning and danger signs. Catalyst includes two supply trays so plain paper can also be used for general purpose and administrative tasks.
Graphic Products, Inc. began operations more than 40 years ago. With more than 50 unique labeling supplies providing the right label material for nearly any type of environment including Arc Flash and Pipe Marking, a full family of thermal transfer printers for every application, a five-year premium vinyl supply warranty, free technical support and satisfied customers throughout the world, Graphic Products is equipped to solve unique problems in the industrial safety arena.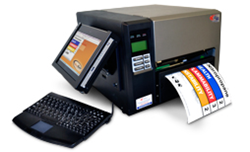 Source http://www.prweb.com/releases/duralabel-9000-ps/04-16-14/prweb11765415.htm