Key Food Stores Co-Operative Selects ADC's InterScale Scales Manager System
Tampa, Florida (PRWEB) May 01, 2014
Applied Data Corporation (ADC), a leading provider of Fresh Item Management (FIM), recipe management and scales management software to the grocery retail and food service industries, announces that Key Food Stores Co-Operative (Key Food Stores) has selected and is implementing ADC's InterScale Scales Manager software. Key Food Stores is headquartered in Staten Island, New York and includes 149 supermarkets spanning all five boroughs, Brooklyn, Queens, Bronx, Manhattan and Staten Island, and additionally Long Island, upstate New York and the states of New Jersey and Pennsylvania.
Key Food Stores selected ADC's InterScale Scales Manager after initiating a strategic project to achieve PLU item number standardization across their Membership.
"As a Co-operative, each of our stores assigned different PLU item numbers across all fresh commodities," said Aliceann Conoshenti, IT Director at Key Food Stores. "Our goal is to provide accurate gross profit reporting to our Members. To accomplish this required standardization of PLU's and UPC's (barcode numbers) across Meat, Seafood, Deli, Dairy, Produce and Bakery departments. We needed a centralized software solution with the ability to communicate across all fresh departments, which is what led us to InterScale."
With InterScale, Key Food Stores can manage all data for barcode labeling scales, including change batch creation and management, performing network tests, re-loading scales with item price and food safety information and pulling back scale data for comparison reporting across an individual store or chain of stores.
Another important factor in selecting ADC's InterScale was the ability to communicate to a variety of barcode labeling scales from different manufacturers, including some scales that are 10 to 15 years old. After completing their research Key Food Stores found that InterScale had the capability to communicate with all models of price look-up barcode labeling scales and printers from all of the manufacturers.
"Our stores responded very favorably to ADC's InterScale because of ADC's extensive list of compliant scales – more than any other scale software company, which made this large project a lot easier for our stores," said Frank Gambarella, Director of Merchandising at Key Food Stores.
Stores are pleased with the capabilities of the software. "With InterScale, we were able to provide the ability to automate pricing updates to all scales, which eliminated the manual efforts that our stores had to manage previously," continued Aliceann. "Our stores have visibility of all scale data. The ease of use of InterScale allows us to update and control the data at scale level from a central location, across all of our stores."
When the InterScale implementation is completed, Key Food Stores intends to further explore ADC's FIM software solutions.
"We worked extensively with Key Food Stores to achieve their goals and are very pleased to hear such favorable results," said Steve Loveridge, CEO at ADC. "We look forward to working with them on their future FIM projects."
The InterScale Scales Manager is one of three software systems that comprise InterStore, ADC's integrated fresh item management software suite. The other two systems are: the NutriGen Recipe Manager, which derives the true cost of recipes (including packaging and labor), as well as managing all of the allergen and nutritional facts through their recipes for legally compliant labeling, and the P-Cubed Production Manager, which automates, manages and tracks shrink, inventory and production in the fresh departments of grocery stores.
For more information, please contact:
Jamie Simon
+1.813.849.1818 Ext. 2238
About Key Food Stores Co-Operative
In 1937, a few grocery store owners came together with the idea to use their combined size and strength to provide their customers the products they wanted at the low prices they needed. On April 20, 1937, Key Food Stores Co-Operative, Inc. was founded in Brooklyn and has since grown to over 149 supermarkets spanning all five boroughs, Brooklyn, Queens, Bronx, Manhattan and Staten Island, and Long Island, upstate New York, and the states of New Jersey and Pennsylvania. Times have changed but the values that Key Food was founded on have not. All of our stores are still individually owned and operated, allowing us to meet the diverse needs of each neighborhood we serve. We're proud to be a part of the community and offer the highest quality products at the lowest possible prices. Learn more by visiting http://www.KeyFood.com[1].
About Applied Data Corporation (ADC)
Since 1989, Applied Data Corporation (ADC) has specialized in the development of data-management solutions for the supermarket, grocery and fresh-food industries. The InterScale scales management software developed by ADC is a global technology leader for host management of supermarket barcode-printing scales and printers. The InterScale system is a member of ADC's InterStore suite of fresh applications which also includes: NutriGen recipe management and P-Cubed shrink management, fresh inventory management, perishable production planning and demand-driven ordering. InterStore consolidates ADC's lead in the Fresh Item Management (FIM) software market with an integrated fresh software suite to provide greater efficiencies and optimize production in the grocer's fresh-food departments. ADC has over 125 supermarket chains and over 10,000 stores installed in 11 countries. For more information on ADC visit http://www.AppliedDataCorp.com[2].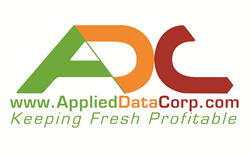 Source http://www.prweb.com/releases/2014/04/prweb11785937.htm