Bluegiga Launches BLE121LR – Extended Range Bluetooth Smart Module
Espoo (PRWEB) May 19, 2014
The BLE121LR[1] is Bluegiga's[2] latest edition to its market leading Bluetooth smart module family offering extended range capabilities in excess of 250 to 450m with current generation tablets and smartphones while maintaining low power operation commensurate with Bluetooth smart technology. BLE121LR has an RF transmit power of +8dBm, receive sensitivity of -98dBm a peak current consumption of 38mA, and sleep current as low as 0.5uA.
The BLE121LR[3] offers a full suite of peripheral interfaces including SPI, I2C, GPIO, ADCs, PWMs and a UART host interface. As with Bluegiga's BLE112, BLE113 and BLED112, the BLE121LR implements Bluegiga's Bluetooth Smart software stack and SDK, offering developers a full-featured Bluetooth smart stack and application development environment for onboard and off-module application operation.
"We are excited to bring the BLE121LR[4] to market with its extended range capability. We think the BLE121LR will enable many new exciting Bluetooth Smart applications including home automation, commercial/industrial automation, and extended range real time location systems that were previously not possible with other Bluetooth smart devices," comments Mikko Savolainen, VP of Product Management.
About Bluegiga Technologies
Founded in 2000 and headquartered in Espoo, Finland, Bluegiga is committed to providing innovative, easy-to-use, short-range wireless connectivity solutions to product designers throughout the world. Our competitive advantage comes from a unique combination of high performance radios, connectivity software, and superior customer support.
Our product line-up includes ultra-low power Bluetooth Smart modules, high performance Bluetooth Classic audio and data modules, and high-speed Wi-Fi modules. Bluegiga customers include industry leaders in consumer electronics, health and wellness, automotive aftermarket, sports and fitness, M2M and industrial telemetry.
To learn more about the new BLE121LR Bluetooth Smart Long Range Module and other Bluegiga products please go to: http://www.bluegiga.com[5].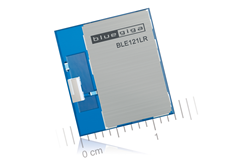 Source http://www.prweb.com/releases/2014/05/prweb11861237.htm