RF Solutions RDF1 Single Board Receiver/Decoder Modules From OKW
Bridgeville, PA (PRWEB) May 30, 2014
Adding remote on/off functionality to electronic projects is now easy and cost effective with RF Solutions' RDF1 single board receiver/decoder modules, available from OKW Electronics.
The RDF1 provides superheterodyne FM receiver decoder functionality in one easy to install unit – making it ideal for a wide range of remote control, telemetry and RFID applications.
These CE compliant units have a range of up to 200m/656ft (line of sight). They feature up to four digital outputs and one serial data output.
Each RDF1 module comprises a front end superheterodyne receiver and an embedded microcontroller which decodes the RF string for a compatible transmitter.
They have an easy-to-use learning facility and can store up to 40 pairings within the internal non-volatile memory (EEPROM).
RDF1 operates on the 433.92 MHz frequency. The supply voltage is 5 V; the current 7.8 m/A. Units can be deployed within a temperature range of 0-60° C.
OKW Electronics Project Engineer Marty Rush said: "The big advantage of the RDF1 is that it's ideal for systems that do not need relay control and can function with a simple control output."
The RDF1 has been designed to be used in conjunction with RF Solutions FIREFLY or HORNET handheld/key fob transmitters.
The FIREFLY Series is a slightly larger, more robust range of 433.92 MHz handheld transmitters with either one (-TX1), two (-TX2) or four (-TX4) switches. They are suitable for remote switching access control applications such as electric gates, hydraulic pumps, security doors plus various lighting systems just to name a few.
FIREFLY has a range of 150m/492ft (line of sight) and can operate in temperatures of -10°C to 50°C. The supply voltage is 3 V (a CR2032 cell is provided with each unit). All three units in the range are 3.54" x 2.13" x 1.06".
Each FIREFLY TX kit includes a handheld transmitter, lanyard and wall mounting cradle.
The HORNET Series is a smaller, yet ruggedized system of 433.92 MHz FM key fob transmitters designed for general remote switching where an unobtrusive and compact remote control unit is desirable.
HORNET has 100m/330ft line of sight range and can operate within a temperature range of -10°C to 50°C
There are three types of fob transmitters available: S1 (one switch), S2 (two switches) and S3 (three switches) – all fobs measure 2.60" x 1.42" x 0.67"
Both FIREFLY and HORNET have FCC Part 15 Class B digital device approval.
For more information about RDF1, FIREFLY and HORNET, please view the website or contact Project Engineer, Marty Rush by phone, 866-603-7701.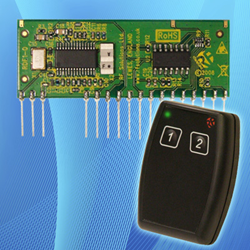 Source http://www.prweb.com/releases/rf-solutions/receiver-decoder-module/prweb11890424.htm