APG Cash Drawer Tees Up Hospitality Solution For PGA Golf Tournament
Minneapolis, MN (PRWEB) June 04, 2014
APG Cash Drawer, LLC[1], is proud to announce the debut of their Stratis Integration System at last week's PGA 2014 Memorial Tournament. Included in the iPad POS solution were technology partners Culinetwork[2], POS Lavu[3], and Epson[4]. The innovative hospitality solution provided service for 200,000 golf fans and professionals at the tournament. The prestigious event, hosted by golfing legend Jack Nicklaus, took place at the Muirfield Village Golf Club in Dublin, Ohio.
Hospitality VAR, Culinetwork, deployed twenty iPad POS stations at the tournament. Concessions ran smoothly throughout the tournament with about 30,000 people attending per day. With this POS solution installed, an estimated four seconds were cut off each transaction, allowing lines to move quickly. "This event was a great opportunity to showcase state of the art mPOS solutions to the PGA tour attendees," stated Bob Daugs, Director of Product Management. "The goal was to simplify the transaction processes. Whether businesses require mobile or thin installations, the Stratis Integration System, consisting of a cash drawer and tablet holder, is a clean, modern design that fits any POS environment. The Muirfield Village Golf Club was among the first to host a PGA event using this advanced mobile POS technology and it improved the customers' experience overall."
"APG is both proud and honored to be included in this POS solution at such a prestigious event as the PGA Memorial Tournament," stated Mark Olson, President of APG Cash Drawer. "The emergence of Tablet based POS systems is allowing businesses like the PGA to install state of the art POS solutions. The POS solutions at this event were innovative and helped create a seamless check-out experience regardless of the location, Souvenir Tent, Pro Shop or Club House. There is a viable need to tender all forms of payment-- even on a golf course."
For more information about the Stratis cash drawer and tablet holder, please contact sales(at)apgd(dot)com or contact your distributor for pricing and availability.
About APG Cash Drawer, LLC
APG manufactures highly durable and dependable cash drawers. APG has built a reputation as the supplier of choice for retail, hospitality and mobile cash drawer solutions for thousands of customers throughout the world. To learn more about APG's products, visit http://www.cashdrawer.com[5] or call 763-571-5000. Follow us on Twitter at @apgcashdrawer and on Facebook.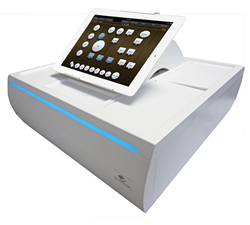 Source http://www.prweb.com/releases/APG-Cash-Drawer/Hospitality-iPad-POS/prweb11913118.htm