The Coolest Invitations for Any Event
New York, NY (PRWEB) June 04, 2014
Traditional invitation cards are now about to go through a big change thanks to a new product launch from Tap For Message. Their patent pending wireless video invitation cards[1] now allow any physical invitation to attach a video along with event related content and collect RSVP information from invited guests. CEO Kadeer Beg says "Traditionally collecting RSVP information from invitees has been difficult for hosts, now it can be collected live from a physical invitation and summarized in a dashboard for them".
The wireless video invitations are available in stickers and paper cards and can be purchased online from their website or Facebook page. They are about the size of a credit card and can easily be placed inside or along other designed invitation cards. Inserting a Tap For Message Card in an invite can drastically improve the experience for the event planners and guests. Event planners can be uniquely creative with their video invite, and save valuable time using the live dashboard provided. Invited guests will appreciate the personalized video invite with instant access to RSVP, google map directions, gift registry and more. The Tap For Message invitation cards can be fully customizable to carry any content (video, links, maps, event info) and collect any personalized type of information from guests. Co-Founder Ahmer Beg says "We're able to extend our technology to any event from wedding invitation cards[2] to corporate event invitations, along with marketing campaigns."
Many of the common problems event planners face is collecting information to plan an event. The ability to collect any type of information from guests very quickly as they open the invitation card is invaluable. For example, once the guests tap the invitation card with their NFC enabled smartphone they can select meal preferences (steak, fish, veg) or how many guests they are bringing. This allows event planners to better prepare for any event. Event planners are also given a dashboard to see real-time statistics of the customized data that is collected from invited guests. For example, a bride and groom would be able to see in real-time how many guests are attending their wedding, who is attending, how many vegetarians there will be, or any other personalized questions they would like to collect directly from their wedding invitation cards[3]. No more sorting thru emails and voicemails to consolidate information. Event Planner Elena Greene from Elena Greene Designs recently used Tap For Message for her client's Bar Mitzah party and says "I recently used Tap for Message on a client's custom Bar Mitzvah invitation and the response from my client and their guests was overwhelming! I do a lot of custom, whimsical invitations and using Tap for Message put this one totally over the top. It was an upgrade to the overall package that couldn't have been done any other way. The process was simple, Tap for Message functioned exactly as promised and the invitations were a huge success!"
Tap For Message cards are invoked either by a wireless NFC tap, QR Code scan or by entering the printed URL in any browser. In other words Tap For Message cards work with any smartphone, tablet or computer.
Tap For Message video invitation cards[4] come in a pack of 50 for $299.50 US. Multiple invitation packs can be linked to the same event. Tap For Message is partnering with selected event planners that are offering clients innovative solutions using Tap For Message products. Event Management companies interested are encouraged to contact them directly from their website.
Skies the limit when it comes to the creativity and uniqueness that can be brought to an invitation. Tap For Message invitation cards can hold any video or content for event planners and marketers. The video invitation stickers and paper cards are now available at http://www.TapForMessage.com[5].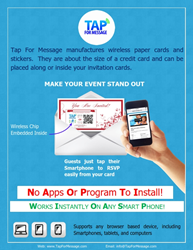 Source http://www.prweb.com/releases/Corporate_Event_Cards/Wedding_Cards/prweb11818813.htm