Place 2014 to Feature BPN's Hillshire Brands Case Study on How iBeacons Impact In-Store Sales
San Francisco, CA (PRWEB) June 26, 2014
Place 2014, the only event dedicated to place-based marketing and indoor location, will feature the first national brand case study on the impact of iBeacons on in-store product sales. Presented by IPG Mediabrands agency BPN, the Hillshire Brands case study will show the influence of a variety of types of awareness and promotion-based messaging at the point of sale.
Other conference highlights will include a one-on-one discussion with progressive specialty retailer Alex and Ani about why it decided to go "all in" on indoor location. Facebook will also reveal how it's closing the loop between online and offline sales in a featured fireside chat. Google's Don Dodge will lead a discussion about the current range of indoor location technologies. And WPP agency MEC's Rachel Pasqua will offer the global media perspective on the current state of mobile and location-based advertising.
Not shying away from controversy, the conference will also tackle consumer privacy head on. The Future of Privacy Forum's Jules Polonetsky will lead a discussion called "Indoor Location & Privacy: Steering Clear of the 'Creepy Line,'" featuring the Federal Trade Commission, as well as media and industry representatives.
There will also be panel discussions and presentations about getting the consumer experience right and avoiding indoor-messaging spam. Place 2014 will end with a panel of industry leaders talking about the future of location in mobile marketing.
"Mobile devices and location analytics are starting to have a dramatic impact on the way that marketers and brands think about reaching and targeting consumers," said Greg Sterling, senior analyst with Opus Research and conference chair. "Vast amounts of real-world data open up new opportunities for place-based marketing, but create new privacy concerns if not handled properly."
Sponsors for Place 2014 include Urban Airship, StickNFind, Factual, IndoorAtlas, iInside, Path Intelligence, Walkbase, GISiIndoors, and Thinknear.
Place 2014 is the only event where attendees can learn about and discuss the convergence of mobile marketing, offline analytics and indoor location. The event will occur on July 22 at the W Hotel, Union Square in New York City.
About Place Conference
Launched by Opus Research in October 2013, Place Conference is a unique industry event to learn how indoor positioning, offline analytics and advanced mobile-location targeting will change the way that retailers, venue owners, manufacturers and brands think about operations, marketing and the customer experience. http://www.placeconference.net[1]
About Opus Research
Opus Research is the leading IT industry analyst firm focused on place-based marketing and advertising, online-to-offline analytics, and associated consumer behavior. Opus Research also covers "conversational commerce," the merging of automated speech processing technologies, contact center automation, enterprise collaboration and mobile commerce. http://www.opusresearch.net[2]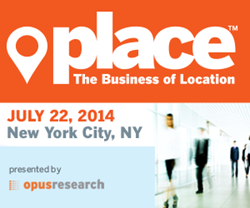 Source http://www.prweb.com/releases/2014/06/prweb11968829.htm
Get The Bar Code News once a month, once a week or once a day. Subscribe here.
Follow us on Twitter: https://twitter.com/TheBarCodeNews
Follow us on Facebook: https://facebook.com/TheBarCodeNews