Datacap and APG Debut PaymentsDrawer™ for Mobile POS Providers
Chalfont, Pennsylvania (PRWEB) August 29, 2014
Datacap[1] and APG Cash Drawer[2] took advantage of the RetailNow 2014 show in Orlando, Florida to debut their collaborative PaymentsDrawer™ for Mobile POS providers. The PaymentsDrawer provides POS developers with instant access to virtually all payment processors in North America and a variety of common POS Peripherals from leading manufacturers (receipt printers, pole displays, PIN Pads, MSRs, barcode scanners, weigh scales, etc.) through one, simple integration. Because the PaymentsDrawer drives the peripherals directly, the POS application does not come into contact with cardholder data ("Payment Unaware") and is therefore removed from the scope of PA-DSS.
Ideal for "Solution-as-a-Service" sales models, the PaymentsDrawer is a perfect fit for ISVs that offer their Point of Sale as part of a Pay-Go agreement. Because the PaymentsDrawer is configured and managed via Datacap's cloud-based product management portal, PSCS™, integration partners can remotely activate and de-activate the PaymentsDrawer and attached peripherals in the event of account termination or non-payment. ISVs now have the ability to easily bundle POS hardware as part of their offering without the risk of losing the hardware investment.
"The PaymentsDrawer is an ideal path forward for mPOS developers looking to step into the ring with the established POS providers," says Terry Zeigler, CEO of Datacap Systems. "We're looking forward to working with our existing and prospective tablet/cloud-based ISV partners to expand their offerings with POS peripheral support and integrated payments for virtually all processors with a solution that is clean and simple to deploy."
"mPOS and specifically cloud based applications is a fast growing arena in the Retail and Hospitality markets," stated Stephen Bergeron, VP of Global Marketing at APG. "Peripheral integration with most tablets is complex and the PaymentsDrawer helps simplify that integration. Datacap's longstanding reputation in the payments world made this a natural product integration and relationship."
Interface options are available for Windows, iOS, Android, Java and Web Services. Contact Datacap for integration info and/or further details.
About Datacap Systems
Datacap Systems celebrates 31 years of successfully designing, manufacturing and marketing innovative integrated payment solutions. One, simple interface allows Point of Sale developers to keep pace with evolving trends and payment industry standards, so they can spend development dollars on POS innovation rather than integrated payments. Because we sell our products exclusively through authorized POS resellers, merchants receive high-end payment solutions coupled with top-tier installation, service and support. Integrated payment solutions from Datacap are utilized by hundreds of POS applications in an array of vertical markets. Contact us to learn more! http://www.datacapsystems.com/contact-info[3]
About APG Cash Drawer
APG manufactures a broad range of high-quality cash drawers and other related products for thousands of customers throughout the world. During its 35+ year history, APG has built a reputation as the supplier of choice for highly durable and dependable cash drawers. To discover more about APG and other APG products, visit http://www.cashdrawer.com[4] or call us at 763-571-5000.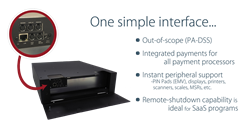 Source http://www.prweb.com/releases/Datacap/PaymentsDrawer/prweb12131198.htm