Luxury Jewelers Resource Group Selects Raymark
Montreal, Canada (PRWEB) October 07, 2014
Raymark is thrilled to welcome select members of the Luxury Jewelers Resource Group (LJRG) to its growing family of customers. The consortium of privately-owned and independent jewelers has unanimously selected Raymark's end-to-end suite of solutions for Point of Sale[1] (including mobile), Clienteling[2], Merchandising[3], Replenishment[4], Open-to-Buy Planning, Purchasing, Repairs, Reporting and Analytics[5]. The banners include Fink's Jewelers, Hamilton Jewelers, Hyde Park Jewelers, Lee Michaels Fine Jewelry, London Jewelers, Lux Bond & Green, Tapper's Diamond & Fine Jewelry, Tivol and Traditional Jewelers.
Raymark's ability to cater to the jewelry vertical and to LJRG's specific niche requirements led the banners to select Raymark from among twenty software solution vendors evaluated. "Raymark targets and understands luxury retail. They are the best suited vendor in the market to offer us a full solution suite that supports a jeweler's end-to-end business requirements," stated Tim Claire, COO of London Jewelers.
In addition to Raymark's technology and industry expertise, LJRG's final selection was very much based upon the cultural fit between the two organizations. "Our partnership with Raymark is based on our shared values of integrity, trust and professionalism," confirms Lori Greenblatt, Director of LJRG.
Raymark's holistic and real-time solution will provide each LJRG select member with a 360 degree view of its customers and business operations across all channels. As a true integrated omni-channel retailing solution, the LJRG select members will improve organizational efficiency by automating processes related to key areas such as customer orders and repairs, access centralized data, and manage and track inventory across stores and e-commerce. "The ability to support serialization as well as repair tracking for jewelry was crucial in our decision to partner with Raymark," said Todd Stafford, VP Information System of Fink's Jewelers.
"On behalf of the entire Raymark team, we are extremely honored to have been chosen by LJRG. Our continued expansion in the jewelry vertical is strategic for Raymark and we look forward to growing our partnership with each of the LJRG members towards mutual success," said Marc Chriqui, President of Raymark.
About Raymark
For 25 years, Raymark has been empowering retailers with world-class enterprise software solutions and services to grow customer loyalty, improve associate productivity, optimize stock turns and increase sales. Raymark's integrated, end-to-end suite of retail technology solutions operate in real-time and provide retailers with everything they need for store operations, customer-centric retailing, planning and inventory management, reporting and analytics. To learn more, visit http://www.raymark.com[6].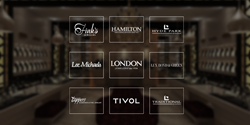 Source http://www.prweb.com/releases/LJRGSelectsRaymark/JewelryRetailSolutions/prweb12225841.htm