Apeiron Data Systems and World Wide Technology (WWT) Complete Strategic Partner Agreement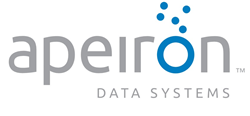 Folsom, CA and St. Louis MO (PRWEB) January 13, 2017
Apeiron Data Systems and World Wide Technology (WWT) announced today they have finalized a global partnership to market and sell the ADS1000, the world's only native NVMe over Ethernet storage solution. Released in October 2016, the ADS1000 gives WWT a strategic advantage in the Big Data and IoT markets. Apeiron passes 100% of the NVMe performance to the application, via a non-blocking storage switching infrastructure. This means the system scales in a 100% linear manner, making it possible to present years of data for real-time queries versus the typical 60-90 days. The performance and capacity of NVMe SSDs in combination with Apeiron's NVMe storage network makes this possible. With its patented storage architecture, Apeiron's system actually outperforms NVMe SSDs installed in servers. WWT spent more than one month validating the ADS1000 performance in their Advanced Technology Center (ATC), based in St. Louis, MO. WWT conducted side-by-side storage testing running Splunk® Enterprise, and found the ADS1000 provided at least a 7x query advantage over bare metal Splunk environments. The ingestion rate was at least 10x traditional architectures, resulting in an incredible 80% consolidation of hardware. The Enterprise Strategy Group (ESG) audited these results and produced a white paper with details and technical specifications. That paper can be downloaded from http://www.apeirondata.com[1]
Scott Miller, WWT's Sr. Director of Data Center said: "When we were introduced to Apeiron's architecture we knew the performance and consolidation claims would need to be demonstrated and documented in an unbiased manner. Apeiron immediately shipped us a system containing multiple NVMe SSD suppliers to prove their ability to interoperate across suppliers. Once the testing began our security and analytics architecture teams were seeing ingestion and query results simply not possible with traditional architectures. WWT is excited to represent the ADS1000 product globally, and we believe it provides an excellent option for those customers demanding ultra-high performance and capacity."
Jeff Barber, Apeiron's EVP of Global Sales & Marketing said: "Apeiron was excited when approached by such a large and successful solution provider. WWT had the resources and in-house expertise to conduct 24x7 qualification of our system against legacy storage architectures, proving the incredible consolidation and performance advantages of NVMe in multiple Splunk Enterprise environments. When the results were in, WWT approached Apeiron about a Reseller arrangement immediately. We believe having a global partner of this size will accelerate our growth and open new markets for Apeiron."
About Apeiron Data Systems: Apeiron provides the world's only native NVMe over Ethernet storage solution. Based in Folsom, California, Apeiron addresses the growing demand for real-time analytics on massive data sets. The ADS1000 leverages commercial NVMe SSDs to provide bandwidth and performance not possible with traditional storage architectures. The ADS1000 offers a controller-less architecture, is capable of scaling linearly to 1000's of NVMe SSDs, and is ready for Intel's 3D XPoint™ technology upon release.
About World Wide Technology, Inc: World Wide Technology is a technology solution provider with more than $9 billion in annual revenue that provides innovative technology and supply chain solutions to large public and private organizations around the globe. Through its culture of innovation, WWT inspires, builds and delivers business results, from idea to outcome. Based in St. Louis, WWT works closely with industry leaders including Boeing, Cisco, Dell Technologies, AT&T Inc., VMware; NetApp, Inc., Microsoft and the U.S. Air Force. WWT employs more than 4,000 people and operates over 2 million square feet of warehousing, distribution and integration space in more than 20 facilities throughout the world. For more information about World Wide Technology, visit http://www.wwt.com[2]
Splunk > Listen to Your Data, The Engine for Machine Data, Hunk, Splunk Cloud, Splunk Light, SPL and Splunk MINT are trademarks and registered trademarks of Splunk Inc. in the United States and other countries. All other brand names, product names, or trademarks belong to their respective owners. © 2017 Splunk Inc. All rights reserved.
Share article on social media or email: