Lisa Dolan, VP of Supply Chain Strategy at ALOM, Named SDCE 2019 Pro to Know of the Year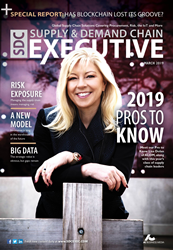 Being selected as Pro of the Year by SDCE is a high honor that I accept on behalf of the entire global team of ALOM supply chain professionals whose talent and dedication make our customers' growth and success possible. -- Lisa Dolan, ALOM VP of Supply Chain Strategy
FREMONT, Calif. (PRWEB) March 27, 2019
Lisa Dolan, Vice President of Supply Chain Strategy at ALOM, a global leader in supply chain management, has been named the 2019 Supply Chain Pro to Know of the Year by Supply & Demand Chain Executive. This award honors her as the premier supply chain executive amongst all those recognized in the 19th annual 2019 SDCE Pros to Know Awards; a list of best-in-class supply chain practitioners and providers who enable their supply chain to meet the significant challenges of today's global business climate.
"Being selected as Pro of the Year by SDCE is a high honor that I accept on behalf of the entire global team of ALOM supply chain professionals whose talent and dedication make our customers' growth and success possible. I am passionate about applying technology to solve complex challenges that delivers truly exceptional supply chain performance to our customers. With all its moving parts and global impact, I can't imagine a more exciting and important industry to have dedicated my career," Dolan said.
Dolan positions ALOM customers for supply chain success amidst an increasingly complex and fast-changing technology landscape and global trade environment. For example, she strategizes with customers and systems engineers to utilize technology to produce and deliver products and information globally while protecting the supply chain from disruption; specifically in the areas of ecommerce fulfillment and automotive system data management.
"Lisa Dolan exemplifies the leadership and innovative spirit that defines the Pro to Know of the Year. Her collaborative approach to supply chain decision-making and leverage of technology separates her from other executives," says John R. Yuva, editor for Supply & Demand Chain Executive. "We also admired Dolan's commitment to the community and as a role model for the next generation of young women joining the supply chain profession. Her focus is clearly to make those around her successful. We congratulate her on this incredible honor."
A leader in her profession, a contributor to her community, and a role model for women and girls, Dolan's impressive track record has recently earned her the 2018 Connected World Women of M2M/IoT award, 2016 YWCA Tribute to Women Award, and the 2016 Women in Manufacturing STEP Ahead Award.
This award follows a string of recent accolades for ALOM recognizing excellence in supply chain sustainability, partnership, technology innovation, and supplier diversity. For example, Dolan and ALOM President and CEO Hannah Kain each were named to the overall list of 2019 Supply Chain Pros to Know, from which Dolan was named the Pro to Know of the Year.
About Supply & Demand Chain Executive
Supply & Demand Chain Executive is the executive's user manual for successful supply and demand chain transformation, utilizing hard-hitting analysis, viewpoints and unbiased case studies to steer executives and supply management professionals through the complicated, yet critical, world of supply and demand chain enablement to gain competitive advantage. Visit us on the web at http://www.SDCExec.com.
About ALOM:
ALOM is a global supply chain management services and solutions provider serving as a partner to its Fortune 500 customers in the technology, automotive, government, medical, telecommunications, and utility/energy sectors. Headquartered in Fremont, CA, its expert team of strategists, technology engineers, and supply chain specialists operate globally from 19 locations. ALOM supply chain service offerings include procurement, ecommerce, inventory, assembly, digital media duplication, print management, fulfillment, IT and visibility tools, logistics management, and operations. ALOM is proud to deliver its customers' products and services impeccably, enrich the end-user experience, and uphold their brand reputations. http://www.alom.com