Asset Tracking System Reveals Enhancements to its Reservation Feature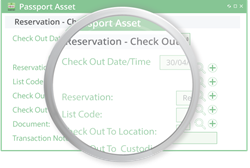 "The purpose of the added enhancements to the reservation feature is empowering the users of more efficient asset management and accurate status of assets availability."
NEW YORK, LOS ANGELES, DALLAS, and CHICAGO (PRWEB) April 30, 2019
ASAP Systems, the market leader in Inventory System and Asset Tracking, reveals enhancements on the Reservation Feature for its On-Premises Asset Tracking System.
This feature is already available using the online Asset Tracking System. The Reservation Feature allows users to make reservations that can be used to populate the checkout and check-in transaction. The Reservation Feature offers better scheduling of asset availability.
The Reservation Feature can now be used as a means for checking in, checked out asset items without using a list. The enhancements include the added ability to check-out and check-in asset items based on a reservation. Users can now profit from this flexible and time-saving process during everyday procedures.
Gerges Tannous, ASAP Systems' engineering supervisor stated: "The purpose of the added enhancements to the reservation feature, is empowering the users of more efficient asset management and accurate status of assets availability."
--