MachNation Reviews 23 IoT Application Enablement Platforms (AEPs), Identifies 10 Winners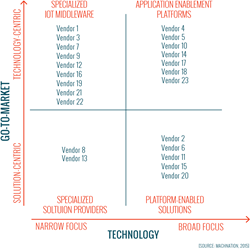 It's easy for enterprises to pick the wrong IoT solution provider, says MachNation's CTO Dima Tokar.
Boston, MA (PRWEB) January 11, 2016
MachNation, Inc. (https://www.MachNation.com[1]), the only dedicated firm offering applications and insight services for the Internet of Things (IoT), Internet of Everything (IoE) and connected device ecosystems, announces availability of its IoT Application Enablement ScoreCard for 2015[2], an in-depth rating of 23 application enablement platform (AEP) vendors.
"Our partners have come to expect unique insights into the upper layers of the IoT technology stack," said Steve Hilton, co-founder and President, MachNation. "Today, we are thrilled to announce our second annual IoT Application Enablement ScoreCard."
MachNation's 2015 IoT Application Enablement ScoreCard is the industry's most comprehensive technical evaluation of the IoT platforms providing device connectivity, device management, data management, event processing, alerting and notifications, dashboards and analytics.
The ScoreCard is a valuable tool for enterprises looking to deploy an IoT solution, technology vendors looking for an IoT platform partner and venture capitalists and financiers seeking a deeper understanding of the differences between vendors.
MachNation's ScoreCard puts vendors into four categories:
Application Enablement Platforms (AEPs)
Platform Enabled Solutions (PESs)
Specialized IoT Middleware (SIoTM)
Specialized Solution Providers (SSPs)
"The IoT application enablement space is one of the most dynamic and rapidly blossoming elements of the IoT technology stack," said Dima Tokar, co-founder and CTO of MachNation. "Even though the industry is growing quickly, there is a lot of variance between the most prepared and the least prepared vendors in MachNation's ScoreCard."
According to Tokar, "In order to capture the key trends in the ecosystem, we completed an in-depth look at the following vendors: Aeris, Amazon, ARM, Autodesk, Ayla Networks, Bug Labs, Carriots, Cumulocity, Davra Networks, Electric Imp, EVRYTHNG, Exosite, IBM, MachineShop, PLAT.ONE, PTC, SAP, Sierra Wireless, Telit, Waylay, Xively, Yaler and Zebra Technologies. We were pleased by the progress made by some vendors in our second ScoreCard."
The findings of MachNation's ScoreCard are available to MachNation partners.
About MachNation
MachNation is the only dedicated insight services firm covering the future of the Internet of things (IoT), Internet of everything (IoE), connected device and machine-to-machine (M2M) ecosystems. MachNation specializes in understanding and predicting these technology sectors including developments in hardware, platforms, communication services and applications. MachNation specialists have provided guidance to the majority of the world's leading IT and communications firms. MachNation serves on Cisco's prestigious IoT World Forum Steering Committee[3] and co-chairs the Service Provider working group within the Steering Committee.
Share article on social media or email:
Read more supply chain and process control articles