Infolinx Partners with Questys for Total Enterprise Records Solution in California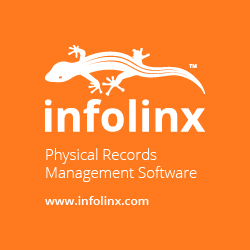 Kensington, MD (PRWEB) August 23, 2016
Today, Infolinx System Solutions™[1], a leading provider of enterprise physical records management software, announced the implementation of Infolinx WEB 3.4 at Monterey County, California. In addition to providing best-in-class management of their paper-based files, the implementation also includes an integration with Questys Enterprise Content Management Software[2], providing full life-cycle management of all organizational records, regardless of media type.
"Infolinx worked diligently with us to develop the ideal solution for our client, merging both physical and electronic records management systems in a seamless way." said Mike Myers, Chief Executive Officer, Questys, Inc.
Providing an industry leading feature-set within a true thin-client, browser-based application, the solution manages hundreds of thousands of files and boxes governed by almost fifteen hundred disposition rules. In addition to an integration with Questys enterprise content management software the on-premises installation also provides Space Management with the ability to generate and invoice storage-based charges to individual organizations throughout the county.
About Infolinx®
Infolinx System Solutions is a leading provider of DoD5015.2-certified enterprise physical records management software. Full life-cycle records management for archives, records centers, and file rooms includes integrated Enterprise Content Management, third-party warehouse integration, robust searching, online requesting, complete audit history, location reconciliation, supply item ordering, retention schedule and legal holds management, integrated RFID technology, space management with charge-back functionality, extensive reporting capability, advanced security configuration, workflow email notifications, and legacy data sharing. Available as an on-premises or cloud-based solution, Infolinx maintains clients within all major business segments and the public sector. Infolinx System Solutions Demo.[3][4]
Share article on social media or email:
Read more http://www.prweb.com/releases/2016/07/prweb13533082.htm
More bar code and RFID news:
The Bar Code News is in its 7th year and receives 500,000 visitors per year. Find useful links on the left side menu, and more on the Footer menu.