Western Computer Named to Bob Scott's Insights Top 100 VARs for 2017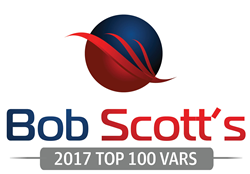 Oxnard, California (PRWEB) June 20, 2017
"We want to congratulate this year's class of Bob Scott's Top 100 VARs," said Bob Scott, executive editor of Bob Scott's Insights. "This selection represents recognition of leaders in this important field."
The Top 100 resellers are chosen from organizations specializing in the sale and implementation of Enterprise Resource Planning (ERP) and accounting software. The selection is based on annual revenue generated by each reseller. A special report that includes names of the organizations selected for this year's Top 100 list, ranked by revenue, is downloadable at http://www.bobscottsinsights.com.
"Western Computer is thrilled to be included in Bob Scott's Insights Top 100 VARs for the sixth consecutive year. This honor is a product of our team's dedication to supporting the needs of our valued clients, which has helped us to build many lasting business relationships," stated Linda M. Collins, President of Western Computer. "I am proud to have such a talented staff, and I look forward to what we can accomplish throughout the remainder of 2017."
Bob Scott has been informing and entertaining the mid-market financial software community via his email newsletters for 18 years. He has published this information via the Bob Scott's Insights newsletter and website since 2009.
Scott has covered this market for over 26 years through print and electronic publications, first as technology editor of Accounting Today and then as the Editor of Accounting Technology from 1997 through 2009. Scott has covered the traditional tax and accounting profession during the same time and has continued to address that market as executive editor of the Progressive Accountant since 2009.
Western Computer has been providing ERP, CRM, supply chain management and business intelligence solutions for over three decades. Western Computer has helped hundreds of companies, from midsize to some of the world's largest, in selecting, implementing and reaching their business and technology objectives.
About Western Computer
With over 160 resources across North America, Western Computer has designed and implemented business solutions for the distribution industry since 1987. Western Computer has also been ranked number 15 on Accounting Today's VAR 100 report for the third year in a row. To learn more, visit http://www.westerncomputer.com or call (805) 581-5020. Connect with us on Twitter, LinkedIn, and Facebook.
The Bar Code News (
www.barcode.com
), now in its 8th year, does not sell software, hardware, bar code products or services. Use the links on the left side menu to find the products or services you need. Want to reach us? See the links on the Footer menu below.
Please let vendors know you've seen them here.