It's RFID Tags For Waldorf Astoria Beverly Hills Uniform System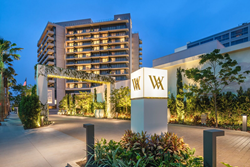 Los Angeles, California (PRWEB) June 20, 2017
InvoTech Systems Inc. announced the recent implementation of its Uniform System at the new Waldorf Astoria Beverly Hills that opened June 1. InvoTech Systems is the leading provider of advanced Linen Management, Laundry and Uniform Systems that integrate the latest RFID technology to increase profitability for hotels, resorts, casino operators, sports arenas, convention centers and theme parks. The InvoTech System installed at Waldorf Astoria Beverly Hills manages the uniform inventory for 400 employees, and joins InvoTech System's extensive client portfolio of Hotels & Resorts worldwide.
InvoTech's Uniform System establishes a perpetual uniform inventory and has extensive reporting capabilities to determine and forecast appropriate uniform purchases. The system provides significant cost saving benefits by cutting labor costs, eliminating losses, reducing purchases, and lowering laundry expenses. The uniform cleaning costs are entered into the InvoTech System and reports are provided to audit laundry expenses.
"The InvoTech system is reliable, easy to use, and establishes an organized system for managing the uniforms. The system maintains our employee uniform assignments and tracks uniforms to and from the laundry giving us complete control and accountability of our inventory," said Jeroen Werdmolder, Hotel Manager at Waldorf Astoria Beverly Hills.
The RFID technology allows for multiple uniforms to be processed simultaneously and automatically, and the recordkeeping is also automated. The system integrates with automated uniform conveyors to distribute the uniforms to employees, and to automatically record which uniforms are taken by employees.
The system includes an electronic signature capture terminal that records each employee's signature when uniforms are assigned. This increases accountability for the uniform department and facilitates a paperless "green" system.
"By installing the InvoTech Uniform System prior to the hotel grand opening, the Waldorf Astoria Beverly Hills can ensure that its uniform assets and PAR levels are properly assigned to each employee and the entire uniform inventory is tracked from day one" said Oswald Lares, Director of Sales at InvoTech Systems, Inc.
InvoTech's clients include Madison Square Garden, Universal Studios Hollywood and Florida, MGM Resorts International, Ritz Carlton, Hyatt Hotels, Marriott, Hilton Hotels, Loews Hotels, Mandarin Oriental, and the Empire State Building. International clients include LEGOLAND Dubai and Japan, Venetian Macau; MGM Macau; MGM Cotai; Park Hyatt Sydney, Australia; Perth Arena, Australia; Four Seasons Hotel Seoul, Korea; Resorts World Sentosa, Singapore; Systematic Laundry, Singapore; Genting Malaysia; and Palace Resorts and Laundry, Mexico.
About InvoTech Systems
InvoTech Systems, Inc. increases profitability for clients. It is a leading provider of software management and control systems for uniforms and linens, and for laundry and security operations. Served markets include hospitality, healthcare, cleanroom, commercial laundry, and amusement industries worldwide. InvoTech products deliver vital information that establishes ultimate control and total accountability. InvoTech solutions are reliable and easy to use. They streamline operations and improve service levels with reduced labor and operating expenses. InvoTech provides 100% of its system support and product development in-house. The firm's trusted staff averages 10 years of reliable technical experience, knowledge of methodologies, and industry depth. InvoTech is a Microsoft Certified Partner that evolves technology-based solutions regularly based on client- and staff-driven innovations. The company is rooted in a culture that emphasizes long-term client relationships and superior customer service. For more information, please visit http://www.InvoTech.com.
The Bar Code News (
www.barcode.com
), now in its 8th year, does not sell software, hardware, bar code products or services. Use the links on the left side menu to find the products or services you need. Want to reach us? See the links on the Footer menu below.
Please let vendors know you've seen them here.