LivingPackets Launches "Crowdsharing" Campaign For Unique Worldwide Instant Delivery Service
NANTES, France (PRWEB) July 06, 2017
Unlike the myriad of delivery services fiercely competing with their collaborative offers, LivingPackets introduces a disruptive delivery concept thanks to patented ground-breaking technologies. After 2 years in research and development and design optimization, LivingPackets is ready to take off. Additionally, LivingPackets also promises a fairer way to reward all players involved thanks to a completely new profit-sharing model.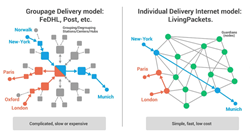 "There is just no alternative to our delivery concept, allowing for a straight individual logistic solution worldwide: nobody can be faster and each new offering in the transportation sector will increase our performances. It costs a fraction of the regular shipping price and we save a lot of CO2 for the planet ", says Denis Mourrain, CEO of LivingPackets France.
A ground-breaking technology for express delivery The LivingPackets are smart and self-directing. Ultra-secured and ultra-connected, they include multiple features: camera, shock and temperature sensors, real-time tracking, electronic lock, Bluetooth and more. "The LivingPackets are unique and enable a unique logistics solution, they are a complete game changer for the new "crowdshipping" field. Thanks to this technology, LivingPackets is able to guarantee speed, costs and safety! As an example, all the Europeans capital cities are reachable in less than 6 hours." says Denis Mourrain. "IoT¹ is changing customers' habits, we use it to improve the aging logistics systems". Environmental friendly, LivingPackets don't generate a noticeable CO2 impact, since the service is based on existing travels and there is no wasted packaging.
Players are fairly rewarded with a new economic model: "the Profit-Sharing" Thanks to profit and wealth sharing, LivingPackets introduces a new 3.0 economic model. All players are rewarded for their contribution: "For example, for each 4 $/€² generated corresponding to LivingPackets delivery renting costs, the company gets 2 $/€ and the community gets 2 $/€, we share 50% of our revenue with the players". This is a unique approach to date in the sharing economy that we call Profit-Sharing Model. "Our model could reduce the growing gap between rich and poor in the long run " says Jonathan Harvey, community manager of the company. "We are a community-based and Profit-Sharing company, and we hope that many other companies will follow our model . Besides sharing our success and our enthusiasm, we get concretely one million for each million we share and this is a good motivation." Mourrain goes on.
CrowdSharing VS Crowdfunding LivingPackets has started a CrowdSharing campaign in March'17 (http://www.livingpackets.com) to raise funds in order to finance the production of the LivingPackets and launch the service. Rather than looking for Business Angels, LivingPackets wishes to share its success and revenues with "Sharing Angels". Unlike traditional crowdfunding campaigns, anyone who sponsors a LivingPackets becomes a Sharing Angel (Early Bird Offer 60$/€). We share 2 $/€ with our Sharing Angels every time LivingPackets are used anywhere in the world. Each sponsoring generates rewards during 5 years and Sharing Angel are treated like shareholders during this specific time or as long as they contribute to the success of the company. "Thanks to our Sharing Angels, we expect to produce more than 1 million LivingPackets. After that, the sky will be the limit" says Denis Mourrain.
About LivingPackets:
LivingPackets is a start-up that could change forever the world of express deliveries. Our delivery services are the fastest and most secure worldwide at an affordable price. The community and profit-sharing model could indeed improve the old capitalistic model. LivingPackets contributes to a greener and fairer world thanks to a combination of ground-breaking technologies and friendly environmental concepts.
¹ Internet of Things
² $/€, we have decided to make no difference between USD and €uro depending on the currency used while
sponsoring.
Other Barcode News:
Save
Save