Jump Technologies, Inc. Announces Webinar Schedule For Hospital Supply Chain Professionals
Eagan, MN (PRWEB) July 10, 2017
Jump Technologies, Inc., an innovative software company with solutions that streamline supply management in hospitals, today announced three new webinars have been added to the Summer 2017 event calendar. JumpTech focuses on solving some of the most frequently-occurring and expensive problems in provider organizations, including inventory overstocking, item stock-outs, lost charges associated with product consumption, high labor costs and waste due to expired products. In addition to offering smart, cost-efficient solutions, JumpTech strives to support hospital supply chain professionals with continuing education opportunities, updates on new technology, and advancements that move the industry toward a new era of healthcare supply chain optimization.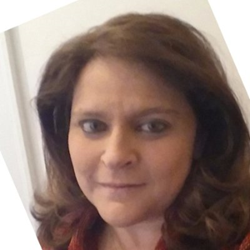 Rita Antis, CMRP, Chesapeake Regional Medical Center
The JumpTech Summer webinar schedule now includes:
1) Propel the Partnership Between Supply Chain and Clinical Specialty Areas – AHRMM-accredited for 1.0 hour of Continuing Professional Education – Wed., July 12, 2017, 12:30 PM ET (9:30 AM PT). Join Rita Antis, CMRP, Materials Manager, Perioperative Services, Materials Management, Chesapeake Regional Medical Center and Sophie Rutherford, Vice President of Business Development for this interactive discussion of ways to close gaps between your supply chain processes and clinical specialty areas, including the OR, IR, Cath Labs and Endo.
This session will include discussions of:
a) The most common areas barriers exist and why
b) Ideas to improve visibility to all types of supplies throughout the organization
c) Ways to create teams with resources in clinical specialty areas, helping identify opportunities for standardization and greater purchasing efficiency
d) Services you can offer to clinical specialty areas to help them recognize the benefit of working with supply chain, helping better align priorities
e) Five steps a supply chain professional can take to close gaps now
2) Product Education Webinar – InnerTrack Receiving and Package Tracking – Mon., July 31, 2017 - 12:30 PM ET (9:30 AM PT). Sophie Rutherford, Vice President of Business Development, Jump Technologies, will be joined by Chad Jones, Operations Manager, Supply Chain Management, Adventist HealthCare. This webinar will provide an overview of results achieved at Adventist HealthCare using InnerTrack, and a live demo of the system, which creates an electronic chain of custody record for all incoming supplies, significantly increases staff productivity, and automates receiving processes while building greater visibility and accuracy.
3) Product Education Webinar – JumpStock Inventory Management – Tues., August 1, 2017 - 12:30 PM ET (9:30 AM PT). Join Joe Martinez, healthcare supply chain consultant and former pharmacy administrator and clinician with 20 years' experience in the United States Army, and Sophie Rutherford, Vice President of Business Development, Jump Technologies, for this live discussion and demo of JumpStock Inventory Management. Joe will share his experience managing supplies in clinical specialty areas, and suggest ways to improve business processes and results throughout the hospital.
"In today's healthcare environment, it's vitally important for supply chain professionals to have best practice information, together with the right tools and technology," said Sophie Rutherford, vice president of Business Development, Jump Technologies. "At JumpTech, we're committed to helping supply chain professionals improve their results and supply chain performance, helping them to identify new ways to remove costs while also improving efficiency and visibility."
Jump Technologies continues to expand its portfolio of cloud-based mobile solutions that reduce labor, reduce costs, improve cash flow and enable more automated and accurate supply management in hospitals and health systems.
About Jump Technologies, Inc.
Health systems using supply chain solutions from Jump Technologies improve the way supplies are managed, from demand through use and replenishment. Jump Technologies' solutions enable precise, automated supply management, driving significant cost and labor reductions. JumpTech solutions, including JumpStock™ Inventory Management and InnerTrack™ Receiving & Package Tracking, make a positive impact on a healthcare organization: reducing overstocking, stock-outs, hoarding and waste, while increasing inventory turns, data-driven decision making, and accurate forecasting and planning. With JumpTech, hospitals and health systems are reducing inventory by as much as 50 percent system-wide, in turn, freeing up cash and helping improve the bottom line. For more information, visit http://www.jumptech.com or call (888) 373-7226. Follow the company on LinkedIn and Twitter @JumpTechNews.
Save
Save
Save