RetailX Chicago - BSN Today Announces Its Eprint Program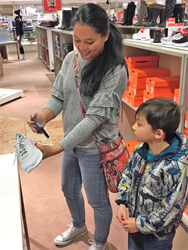 "The consumer will simply be able to tap their phone onto a product label and all relevant product information will appear on their screen".
CHICAGO (PRWEB) June 26, 2019
Eprint tags are based on a 'printed electronics' integrated circuit (IC) and therefore no longer require a silicon chip. The removal of the need for silicon chips, allows for a dramatic reduction in prices and will offer a truly disruptive alternative to current RFID NFC solutions.
Eprint IC's will be embedded inside of BSN RFID labels and can be read by a smartphone. Taking advantage of the latest 5G data communications, Eprint applications will allow for the consumer to use their smartphone in order to authenticate and validate products in just a second or two. In addition, consumers may enhance their shopping experience as they will be able to read Eprint labels on their phones and can trigger YouTube videos that display the key features of any product.
"Fake products, known as counterfeit items, are growing at an alarming rate," says Philip Calderbank, RFID Consultant with BSN. "You will find an amazing number of counterfeit items in many markets, such as pharmaceuticals, luxury goods, baby formula, electronics, hair products and cosmetics. In fact, counterfeit drugs can run as high as 40% of the total sales in some countries," says Calderbank. "The consumer is becoming increasingly aware that the product that they buy online, or even in-store, may not be the real thing. This becomes serious when a mother is buying formula for her baby, or a doctor is injecting medicine in the field. Even in the USA, it is now estimated that counterfeit drugs may account for more than 1% of all medicines."
"RFID has always been considered as an ideal solution to employ in anti-counterfeit applications but up until now it has been an expensive option."
"The same can be said where a brand is looking to engage the consumer with product information and promotions. QR (barcodes) have been tried but were found to be too difficult to use for most consumers. With Eprint, the consumer will simply be able to tap their phone onto a product label and all relevant product information will appear on their screen."
About BSN
BSN is a part of the Baoshen Group of companies. The company offers a complete range of TRIMS, labels and RFID solutions.
In addition, BSN offers a comprehensive range of RFID infrastructure, including readers, software and full deployment.
BSN is introducing its Eprint solutions. A new form of non-silicon NFC tag that is based on electronic printing of the IC. Eprint will bring inexpensive NFC type solutions to anti-counterfeiting and consumer experience applications.
The Baoshen Group owns 21 HP industrial digital printing machines, made in Germany, the USA, and Israel. Making the Baoshen group the biggest HP printing enterprise in Asia with a daily capacity of 20 million items, including labels, hangtags, and RFID labels.