KOAMTAC Unveils Accessories Built for Samsung Galaxy XCover 4s and Tab Active Pro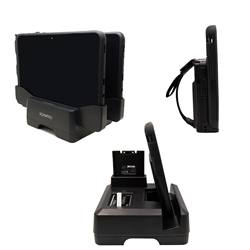 It is important for us to continue to support Samsung's rugged business-grade phones with barcode scanning, RFID reading, mPOS, and charging solutions to empower all businesses with the technology they need to thrive.
PRINCETON, N.J. (PRWEB) September 05, 2019
KOAMTAC®, Inc., leader in Bluetooth® data collection, payment solutions, and charging solutions, has unveiled data collection solutions for Samsung Galaxy® XCover 4s and Charging Cradles for Samsung Galaxy Tab Active Pro.
KOAMTAC partnered with Samsung to enhance the XCover 4s, launched in June, with superior data collection and charging capabilities. Custom charging cases for the XCover 4s include options for both inductive charging and charging via Charging Cradle. Additionally, the case compatible with KOAMTAC Charging Cradles can be enhanced with an Extended Battery for lasting power. A custom SmartSled case is also available for the XCover 4s to enhance data collection capabilities via barcode, RFID, magnetic stripe, and EMV. This case enables charging via charging cradle of both the data collection device and XCover 4s as well as direct data connection for increased security and speed.
KOAMTAC's charging solution for the Samsung Galaxy Tab Active Pro includes 2-slot and 4-slot Charging Cradles. The cradles prevent constant wear and tear on the tablet's charging ports and eliminates messy cables while providing a secure charging dock.
"Samsung continues to create rugged business-grade phones and tablets that are enhanced with our power and data collection products," Dr Hanjin Lee, President and CEO of KOAMTAC stated. "It is important for us to continue to support barcode scanning, RFID reading, and mPOS for the wide range of Samsung solutions to be used in a warehouse, retail store floor, hospital, construction, and in the field, empowering all businesses with the technology they need to thrive."
KOAMTAC's SmartSled solution is based on a barcode sled scanner available for both 1D and 2D barcodes that connect via Bluetooth and USB to the host device for data transfer. The scanner's modular design enables users to select additional data collection companions for RFID, MSR, and EMV. Additional companions include an Extended Battery, Hand Strap, and Pistol Grip for long-lasting power and advanced ergonomics. When combined with the SmartSled case, the Koamtac Data Collector (KDC) and XCover 4s can be charged simultaneously.
KOAMTAC will be providing demonstrations of all Samsung accessories at IFA in Berlin, Germany on 6-11 September at the Samsung Electronics booth in Hall B, CityCube / 101.
About KOAMTAC
KOAMTAC, Inc., headquartered in Princeton, New Jersey, produces a signature line of lightweight, ergonomically-friendly Bluetooth companion barcode scanners, sled barcode scanners and RFID readers, mPOS, and enterprise charging solutions. With its unique patented design, all KOAMTAC products reduce the carbon footprint for the industry and provide consumers with a durable and enhanced solution. All products are universally compatible across current technology platforms and offer seamless use with iOS®, Android®, Mac®, Tizen®, and Windows®-based devices. The KDC20, KDC30, KDC100, KDC200, KDC250, KDC270, KDC280, KDC300, and KDC350 are the most compact and lightest programmable Bluetooth and Wi-Fi companion barcode and NFC readers with a display on the market today. The KDC470 and KDC475 series are a patented modular design Smartsled® for single-handed utility. The KDC500 is a PCI-certified EMV/MSR/Barcode/NFC Mobile POS Companion. For additional information or to place an order, visit https://www.koamtac.com, email the team at info(at)koamtac(dot)com or call 609-256-4700. Join in on the conversation on Facebook, Twitter, and LinkedIn.
Credit Notice:
KDC®, KoamTac®, KOAMTAC®, SmartSled®, KOAMTACON®, and KTSync® are trademarks of KOAMTAC, Inc.
All other product and company names used herein are trademarks™ or registered® trademarks of their respective holders. Use of them does not imply any affiliation with or endorsement by the respective trademark holders.
Samsung® and Galaxy® are both registered trademarks of Samsung Electronics Co., Ltd. Android® is a registered trademark or trademark of Google, Inc., in the U.S. and/or other countries.
Bluetooth® is a registered trademark or trademark of Bluetooth SIG, in the U.S. and/or other countries.