Connected Home Products For #CES2016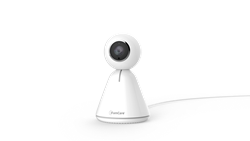 2015 gave us determination to start moving in the new direction of the Internet of Things and Connected Home in 2016 with our smart Wi-Fi solutions
San Francisco, CA (PRWEB) January 04, 2016
'2015 gave us determination to start moving in the new direction of the Internet of Things,' stated the company's VP Elnaz Sarraf. 'Seeing so much immediate success with Helmet, we owed it to people to create more smart, useful, and fun solutions for the whole family. We are revealing three new products at CES 2016, but we have a handful of ideas that are just waiting to be realized,' promised Ms. Sarraf.
This January, iBaby is bringing a plethora of products to CES 2016:
[1]
Helmet: a 1080p full HD Wi-Fi based home video monitor with incredibly quick installation, zero configuration, smart alerts, two-way audio, sound, motion and air sensor, and interactive pet laser. The monitor is Wi-Fi based, and comes with a free app and a wall mount. Works with iOS and Android phones or tablets. It gives users ability to share, like, and comment on pictures shared publicly with other users.
iBaby Monitor M6S: a Wi-Fi based HD video baby monitor. The new model offers improved 1080p video resolution, dual frequency (2.4 and 5 GHz) router support, air quality sensors, shorter installation time, faster video streaming, and an alert timeline. Like previous iBaby models, iBaby Monitor M6S allows 360° movement, night vision, two-way communication, sound and motion alerts, as well as video and sound recording. The monitor also has humidity and temperature sensors, music player and pre-installed lullabies and stories.
HomePal: a further advancement of the home monitoring line, this video monitor allows to remotely keep an eye on home, family, pets, or businesses. Besides new stylish design, the monitor allows 360°/90° movement, 1080p video resolution, and has a smart movement sensor and timelapse option. HomePal comes in a variety of three exquisite colors: white, black, and titanium. Face recognition and voice commands are of its advanced features.
AirSense: AirSense is iFamCare's Wi-Fi based air quality monitor executed in modern, elegant style. It can detect volatile organic compounds, such as carbon monoxide, cigarette smoke, benzene, methane, and ammonia, as well as dust and pollen with PM2.5 and PM10 sensors. The monitor features temperature and humidity sensors, ion air purifier, audio speakers, HomeKit integration capabilities, and tips and reminders. Equipped with a free app, AirSense tracks the environment and sends alerts and daily room reports to the user's mobile device.
iBaby's new products and features provide end users get a variety of choices and benefits of smart solutions that help people feel safe, protected and stay healthy in their home, office, or store.
About the company: iBaby Labs, Inc. is based in San Jose, CA and offers home monitoring and baby wellness products, known worldwide. Founded in 2011, iBaby has developed, designed, and manufactured several generations of baby monitors. The company's leading technology combined with unique design, easy setup and user-friendly interface has brought about several awards that include Mom's Choice Award, NAPPA Gold Award, Creative Child's Product of the Year 2015 Award, and others. In July 2015, iBaby established the iFamCare brand to target a wider audience with Connected Home products. The brand's first product, Helmet video monitor, was launched on Indiegogo in July 2015 and surpassed its original goal by over 300% within few days.
Share article on social media or email:
Read more
Get The Bar Code News once a month, once a week or once a day. Subscribe here.
Follow us on Twitter: https://twitter.com/TheBarCodeNews
Follow us on Facebook: https://facebook.com/TheBarCodeNews