ASAP Systems Offers Rugged Cases for iPhone & iPad with Built-In Barcode Scanner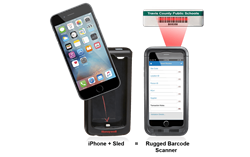 SAN JOSE, CALIFORNIA (PRWEB) JUNE 07, 2016
ASAP Systems, a leading provider of barcode inventory systems, announced today that it will now offer a line of enterprise-grade cases with integrated laser barcode scanning capabilities for select Apple mobile devices.
"We wanted to give our customers a distinct advantage when it comes to barcode scanning and data collection," said Elie Touma, CEO of ASAP Systems. "With the proliferation of BYOD hardware, this makes for a powerful combination that lowers cost and improves productivity."
The new set of hardware, called "sleds", are enterprise grade encasements for the iPad mini, iPhone (5, 5s, 6, 6s) and iPod touch. Used in combination with BarCloud, these sleds help improve the productivity of employees scanning barcodes and looking up inventory. In addition to the inventory management capabilities of the BarCloud Pro mobile application, users experience the fast-scanning action of a true enterprise-grade laser barcode scanner.
Other notable benefits of the Honeywell Enterprise Sleds for Apple devices include:
Read barcodes twice as fast as using the device's built-in camera
Greater durability and protection from drops
Increased savings from using consumer-grade devices with enterprise-grade accessories
Scan poorly printed barcodes and scan effectively from odd angles
60% more battery life
Device failure rates 80% lower
Further Updates
BarCloud Pro now provides a seamless way to login on select Apple devices using fingerprint instead of entering login credentials. Fingerprints are a very secure form of passcode and are especially convenient for oft-used business apps on mobile devices. Users simply place their finger on their iPad or iPhone's built-in Touch ID fingerprint sensor for automatic login to BarCloud Pro.
To learn more about ASAP Systems' new barcode scanning accessories visit: https://www.asapsystems.com/barcloud/hardware_inventory.php#scanners
About ASAP Systems
ASAP Systems provides leading barcode based inventory management and asset tracking solutions, offering both cloud-based and on-premises systems. ASAP Systems helps businesses of almost every industry vertical reduce manual data entry, labor hours, and automate record keeping throughout their inventory workflow. ASAP Systems has offices in San Jose, California (headquarters) and Austin, Texas.
Other Barcode Blogs that may interest you: