Infolinx System Solution Exhibits at ARMA Canada Conference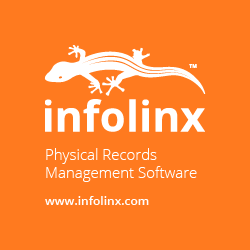 Infolinx System Solutions
Kensington, MD (PRWEB) June 07, 2016
Today, Infolinx System Solutions[1], a leading provider of enterprise physical records management software, announced they would be exhibiting at the ARMA Canada Conference[2]. ARMA Canada's aim is to educate, advocate and provide resources to the community of records and information management. It is comprised of 14 chapters (1,800+ Canadian members) representing Canada from "coast-to-coast."
The conference is scheduled June 13-15, 2016 at the Halifax World Trade and Convention Centre and participants will have direct access to dozens of industry professionals. Information sharing, question-and-answer sessions and networking are a vital part of the conference experience. Speakers include Bob Gray, author of the bestselling book, "Right Brain Rapid Recall", Barclay T. Blair, an internationally recognized authority on Information Governance and Cathy Jones, a master of a thousand voices and Canadian television icon.
Infolinx continues to increase its distribution footprint in the Canadian market via classic and independent dealer models. Recent and upcoming installations include, the municipalities of North Saanich, and Fort Saskatchewan[3], and the Yukon Government .
About Infolinx®
Infolinx System Solutions is a leading provider of DoD5015.2-certified enterprise physical records management software. Full life-cycle records management for archives, records centers, and file rooms includes integrated Enterprise Content Management, third-party warehouse integration, robust searching, online requesting, complete audit history, location reconciliation, supply item ordering, retention schedule and legal holds management, integrated RFID technology, space management with charge-back functionality, extensive reporting capability, advanced security configuration, workflow email notifications, and legacy data sharing. Available as an on-premises or cloud-based solution, Infolinx maintains clients within all major business segments and the public sector. Infolinx System Solutions Demo[4].
Share article on social media or email:
Read more http://www.prweb.com/releases/2016/05/prweb13442968.htm
More bar code / supply chain news: