Property Rental Software Company Uses QR Codes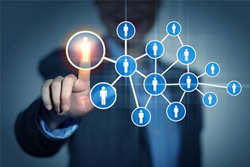 Erie, PA - January 19, 2017
VerticalRent, the industry leading rental property and tenant screening software-as-a-service platform recently announced VerticalRent Affiliate[1]. Designed exclusively for Affiliate Marketers, Real Estate Associates, and Vendors of the Property Management Industry -- VerticalRent Affiliate[2] provides a robust digital portal for Affiliate Marketers to promote, advertise, and share a unique referral link to generate passive income.
Real estate professionals can now earn residual income from VerticalRent Affiliate[3] by sharing their unique link across social networks and real estate forums on the web. The revenue structure for Affiliates is designed to be perpetual and aggressive, giving real estate professionals the incentive and motivation to help proliferate the fastest growing tenant screening solution on the market today. 24/7 access is granted to the Affiliate Marketing Portal where partners can monitor real-time dashboards of sign-ups, transactions, and revenue earned.
Real Estate Investment Associations (REIAs) and Apartment Associations can now leverage VerticalRent Affiliate to increase membership based revenue opportunities. Within the portal, an Affiliate Partner can download a unique QR code to place on paper fliers or membership pamphlets mailed out to local members of an apartment association. Landlords can use their Smart Phone to quickly sign-up for VerticalRent under an Affiliate Partners unique QR code.
"We designed VerticalRent Affiliate for mass market appeal in the real estate industry. In our interactions with customers, we have learned that many of them network and know hundreds of other real estate professionals. We value 'word of mouth' marketing more than any other form of marketing and our Affiliate program is the engine to put money back in our customer's pockets," adds Matt Angerer, CEO and Co-Founder of VerticalRent.
Revenue share earnings for VerticalRent Affiliates include a 20% share on monthly subscription enrollments and $5.00 on every application package. With over 2 million independent landlords and 1.5 million real estate associates in the U.S., VerticalRent's Affiliate Program provides a broad passive revenue opportunity for networked individuals in the industry. "The $58bn property management industry in the United States requires advanced tenant screening tools offered by VerticalRent. We're pleased to announce our new Affiliate Program," concludes Angerer.
About VerticalRent
VerticalRent (https://www.verticalrent.com[4]) is FCRA-compliant tenant screening and rental property software for landlords, real estate brokers, and property management professionals. Secure online rent collection, vacancy advertising, free online rental applications, and best-in-class tenant screening makes VerticalRent™ the no-brainer choice for real estate professionals. Founded in 2011 and headquartered in Erie, Pennsylvania, VerticalRent is used by over 15,000 real estate professionals in all 50 states.
Share article on social media or email:
References
Other bar code news: