Leading Logistics Software Company Joins Forces with Latin American Freight Forwarding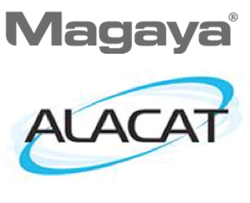 Doral, Florida (PRWEB) June 01, 2017
ALACAT, the National Federation of Freight Forwarders and Logistics Operators International Latin America and the Caribbean, accepted Magaya Corporation as an adherent member to the association.
ALACAT and Magaya The new relationship empowers both organizations to achieve common goals by making Magaya software readily available to all association members "If we can help connect a freight forwarder with a good software solution at a negotiated value proposition, we're doing our job," said Galo Molina, ALACAT President.
"Companies across the supply chain can use Magaya software to excel. Our software is perfect for freight forwarders and NVOCCs in ALACAT," said Jesus David Rodriguez, President of Magaya Corporation. "We're proud to partner with ALACAT and look forward to a successful relationship."
Magaya Corporation is a supply chain and logistics software company established in 2001. While the Magaya Supply Chain Solution includes capabilities for wholesaling and advanced warehousing. Freight forwarders can use technology to keep their customers informed in every step of the shipment process.
Latin America has been key to Magaya Corporation since its inception and it's proud to continue to lead in this region. Headquartered in Miami, Magaya Corporation understands the unique needs of logistics companies in Latin America. Many employees of Magaya and its partner network speak Spanish and English and have years of industry experience in the region. End users can access the software in English, Spanish or Portuguese.
The new relationship will allow freight forwarders and logistics operators to access best in class software and give them the tools to increase efficiency. One of the key features of the software is the award winning Magaya Network, which enables offices at origin and destination to connect and exchange documents and transactions, saving data entry time and reducing errors. As the world of logistics becomes more digital, having reliable software to manage operations is a huge competitive advantage.
About Magaya Corporation
We are proud to develop software that automates and improves business operations. Our customers include leaders in the fields of logistics, warehousing, wholesaling and nearly every aspect of the supply chain. Our philosophy is to help companies succeed by offering them a complete and flexible package designed to grow with them. The growth of our customers is our growth, so we dedicate ourselves to help them succeed.
In addition to continuously improving our software offering, we provide a complete range of consulting and implementation services to help your business accomplish your goals. Our Implementation team leverages industry best practices and applies decades of expertise as they collaborate with our clients. Every customer gets free technical support from our United States-based team.
We provide the needed efficiencies to small/medium sized companies to help them stay competitive with the big players. We also offer robust solutions for larger companies with multiple locations, high shipment volumes, rapid transaction traffic, and multiple users in different countries, time zones and currencies.
We are pleased to serve over 1,500 companies around the world in 80 different countries. For more information on Magaya, visit: http://www.magaya.com
About ALACAT
ALACAT is an association of Latin American countries in the Caribbean, Central and South America established in 1982. They work together to further the goals of more efficient trade in the region. ALACAT strives for sound logistics processes, safe trade and development of management information systems that support forwarding operations.
For more information on ALACAT, please visit: http://www.alacat.org
---
Other Barcode news of interest: