CipherLab Launches RS50 Series Rugged Android Touch Computer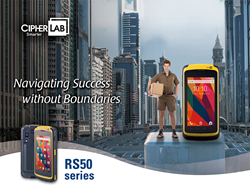 CipherLab, a leading innovator in Automatic Identification and Data Capture (AIDC), proudly presents the RS50 Rugged Android Touch Computer to provide productivity that meets high-end market standards with a smartphone user-friendliness. Operating with Android 6.0 certified with GMS, the RS50 series offers advantages in operation speed, power efficiency and data security. Integrating GMS (Google Mobile Service), users can also access applications such as Gmail and Google Map in the field for maximum output.
Along with the similar smartphone operation experience, the RS50 series has the ability to capture 1D and 2D barcodes within milliseconds. It also has the ability to read and write HF RFID while supporting contactless NFC applications of peer-to-peer mode and card emulation. RS50 series' 8MP camera allows users to capture high-resolution photos and videos for efficient proof of delivery and service. Businesses can streamline their data collection with one simple yet powerful device.
"The RS50 series combines industrial device powers and commercial smartphone operations in perfect harmony," Steven Liau, chairman and president of CipherLab stated, "The design of the RS50 puts together durability, quality performance and power efficiency that will undoubtedly maximize productivity."
The RS50 series also provides the ultimate mobility inside and outside the four walls. Reliable WiFi and LTE connections give RS50 constant connection to systems for clear and instant notifications of daily works. RS50's dependable WiFi transmission features IEE 802.11 a/b/g/n/ac dual band while providing strong roaming support. On top of it all, its advanced LTE option allows large file transfer, video streaming and remote access to back-end systems. Users can always stay connected with the RS50 series.
For more details and specifications regarding CipherLab Mobile Computers and Barcode Scanners or request for demo, please email us or contact our office at 888-300-9779 by phone.
About CipherLab
CipherLab is a global leader in the design, manufacture, and marketing of Automatic Identification and Data Capture/Collection products and systems. The company's mobile computers and scanners are integrated into the networks of some of the world's best known logistics, retail, distribution, government installations and healthcare companies, helping them run more efficiently and effectively onsite and on the road. CipherLab USA is headquartered in Plano, TX. For more information, please visit http://www.cipherlab.com or like us at http://www.facebook.com/CipherlabUsa.