Allpax Unveils Partnership with LSU to Develop Nutritious & Enjoyable Shelf-Stable Foods
COVINGTON, La (PRWEB) September 06, 2017
Allpax, powered by Pro Mach, joins forces with the School of Nutrition and Food Sciences, Louisiana State University (LSU) Agricultural Center to assist North American shelf-stable food companies which produce high-quality products that are nutritious and enjoyable to eat. Personnel from Allpax and LSU will be exhibiting their equipment models, process, and data at Pack Expo in Las Vegas, taking place September 25-27. (Allpax Pack Expo Booth # C-3227)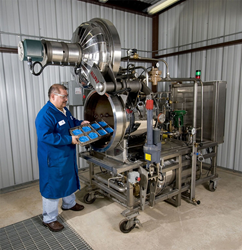 What makes this exciting is that shelf-stable foods have come a long way in the last five years. Due to technology enhancements in production and countless research studies, shelf-stable foods can be a delightful culinary experience that is comparable to refrigerated and frozen product. Dr. Louise Wicker, professor and director of the School of Nutrition and Food Sciences, LSU Agricultural Center, has played a key role in the research process.
According to Wicker, "We know that taste is a fundamental driver of food sales. By combining food formulation with messaging that connects with a target audience, I know that shelf-stable foods can fit the lifestyles of even the most discerning consumer."
The partnership with the School of Nutrition and Food Sciences, LSU Agriculture Center, and Allpax offers world-class capabilities that include sensory science and packaging laboratories, experienced faculty who have relationships with global food development, and marketing leaders, in addition to the R&D Retort by Allpax. Wicker said she is especially excited about the Allpax Shaka® retort capability to dramatically reduce the cook and cooling time required for in-container sterilization of low-acid foods. "We have the ability to prepare and package foods into metal cans and injection in-mold-label oxygen barrier packaging," she said. "We can evaluate foods after retort processing for quality, acceptance, and stability and allow informed decisions about commercial viability."
An Allpax 2402 multi-mode retort will be on display at Pack Expo, similar to the one used at LSU. Each 2402 multimode R&D retort is customized to the specifications of the lab. One unit can offer as many modes as the customer chooses. These multimode retorts can run saturated steam, steam air overpressure, water immersion, water spray, and water cascade processes in combination with seven easily changeable modular agitation modes — still, end-over-end, swinging, Gentle Motion shaking (low-speed), The Shaka® (high-speed), hydrostatic simulation, and axial rotation. These units accommodate cans, bottles, pouches, cups, trays, metals, glass, plastics, and double-seam film and foil closures and are ideal for testing flavors and films.
This partnership is also a natural fit for Louisiana's iconic foods. Shrimp creole, crawfish etouffee, gumbo, jambalaya, and red beans and rice are just some of Louisiana cuisine staples made now conveniently available for global consumption thanks in part to retort technology.
Additional Solutions Featured at Pack Expo
The patent pending Allpax telescoping retort loader, the AllTrax™ basket tracking system, and the Hyper-Loader retort basket loading system will also be featured in the Allpax booth. The Allpax telescoping retort loader system pushes loaded retort baskets in and out of two door retorts, thereby eliminating the need for personnel to enter the hazardous tunnel-like sterilization units during loading and unloading. The AllTrax™ basket tracking system for non-automated retort rooms is a barcode-based system for tracing cans, jars, trays, and pouches by basket through each critical checkpoint in the retort room. AllTrax™ can be integrated into every non-automated retort operation. Tracking systems for automated retort rooms are also available. The Allpax Hyper-Loader is one of the fastest and most reliable retort basket loading systems in the world — it averages 10 sweeps per minute and basket changeover in less than 20 seconds.
Allpax will also be featuring their resource conservation systems which reduce the cost of water disposal and usage by 50 percent, while making free hot water available for plant operations. In steam retort operations, a waste-heat recovery system captures steam in a vented tank where it condenses into hot water. This water can be used to supplement hot water in lavatories and cleaning stations, or it can be run through heat exchangers for heating food or other processes at the plant.
For these and other leading-edge solutions in the retort room, including revitalization and validation, visit the Allpax Pack Expo Booth #C-3227. For more information on Allpax, call 888-893-9277 and visit http://www.Allpax.com.
About Allpax Products
Allpax Products, a market leader in retort technology and retort room automation, designs, manufactures, and delivers turnkey sterilization solutions for the food, beverage, pet food, and pharmaceutical industries. The company is recognized for helping customers become more successful by decreasing time to market with laboratory retort equipment, lowering overall labor costs through automation, and increasing the overall throughput of the sterilization process. http://www.Allpax.com
About Pro Mach
Pro Mach is a leading provider of integrated packaging and processing products and solutions for food, beverage, consumer goods, pharmaceutical, and other diverse companies. Through multiple brands, Pro Mach provides product packaging and processing equipment, PMMI certified trainers, installation, parts, and service in Bottling & Capping, Primary Packaging, Pharmaceutical Packaging, Flexible Packaging, Material Handling, Labeling & Coding, and End of Line, as well as Integrated Solutions for complete packaging lines.
Pro Mach has a diverse customer base, from Fortune 500 companies to smaller, privately held businesses worldwide, which depend on reliable, flexible, technologically advanced equipment and integrated solutions. Pro Mach is headquartered near Cincinnati, Ohio, with manufacturing facilities and offices throughout the United States, Canada, Mexico, Europe, United Arab Emirates, and China. For more information about Pro Mach, please visit http://www.ProMachInc.com.
Other Barcode News:
Save
Save