Principled Technologies publishes architecture for SAS Viya edge-to-enterprise analytics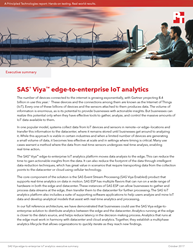 Durham, NC (PRWEB) October 16, 2017
A growing number of companies collect information using devices connected to the Internet. To realize the enormous potential value of this data, businesses need effective tools. The SAS Viya edge-to-enterprise Internet of Things (IoT) analytics platform lets businesses gather and process data streams at the edge, then transfer them to the datacenter for further processing. A suite of supporting software applications helps them analyze and mine IoT data and develop analytical models that assist with real-time decision making.
Principled Technologies implemented the SAS Viya edge-to-enterprise IoT analytics platform and created a reference architecture that shows how businesses can use SAS Viya to distribute analytics between the edge and the datacenter.
The RA highlights the hardware and software PT used in their implementation.
To learn more about the SAS Viya edge-to-enterprise IoT analytics platform and how companies can implement it, read the full reference architecture at facts.pt/Lmdxjs or glance through the executive summary at facts.pt/h3Azjx.
About Principled Technologies, Inc.
Principled Technologies, Inc. is the leading provider of technology marketing and learning & development services.
Principled Technologies, Inc. is located in Durham, North Carolina, USA. For more information, please visit PrincipledTechnologies.com.
The Bar Code News (www.barcode.com), now in its 8th year, does not sell software, hardware, bar code products or services. Use the links on the left side menu to find the products or services you need. Want to reach us? See the links on the Footer menu below. Please let vendors know you've seen them here.
Check out the latest Bar Code Digital magazine here
​
Other Barcode News: