New Layout Feature for Cloud-based Inventory and Asset Tracking System - ASAP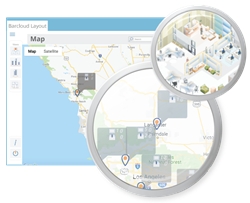 "The purpose of the Layout Feature is to allow maximum visibility to users over their assets and inventory physical location"
AUSTIN, Texas (PRWEB) February 05, 2019
ASAP Systems, the market leader in the Inventory System and Asset Tracking, announces how its Cloud-Based Inventory and Asset Tracking Software has a new "Layout" feature.
The Layout feature allows both Inventory and Asset Tracking System users the ability to physically locate an available asset and inventory items whether in the office or warehouse/stockroom.
The feature will grant users a smarter allocation of resources, inventory and asset control, more efficient use of time and most importantly, absolute physical visibility over the available asset and inventory items.
The administrator has the power to build the map or plan for their inventory and assets. The Administrator can add the addresses to be shown on the map, allocate buildings to the addresses and floor plans/layouts within those buildings. The layouts can be broken down into multiple locations.
The Layout feature allows users to run a global search through the map and visualize the available asset quantity and stock quantity at every address. This feature also offers the ability to filter the view by either site, building or layout view.
ASAP Systems' Head of Engineering, Joseph Azzi, explains: "The purpose of the Layout Feature is to allow maximum visibility to users over their assets and inventory physical location."
About ASAP Systems
We solve the biggest problems in Inventory Management and Asset Tracking. Through many years of experience, working on a vast range of unique customer requirements, we have developed unmatched expertise in creating solutions to fit almost any budget, technical or user requirement. Our highly-configurable and scalable barcode-based tracking systems are designed to provide maximum ROI today, tomorrow and into the future. Offices in San Jose, California (headquarters) and Austin, Texas
Visit us at https://www.asapsystems.com/barcloud/
Get The Bar Code News once a month, once a week or once a day. Subscribe here.
Follow us on Twitter: https://twitter.com/TheBarCodeNews
Follow us on Facebook: https://facebook.com/TheBarCodeNews