Visage Demonstrates Barcode Mobile Enhancements at RSNA 2015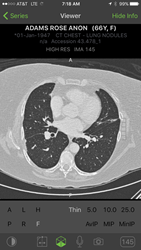 Because Visage Ease is a native component of Visage 7, all of a patient's imaging studies are always available. Now with a single barcode scan, providers can immediately access all of a patient's imaging results, exactly how it should be.
San Diego, CA (PRWEB) December 01, 2015
Visage accelerates mobile imaging results access with simplicity and scale
Visage Imaging Inc. ("Visage"), a wholly owned subsidiary of Pro Medicus Ltd. (ASX: PME), has announced they are demonstrating new work-in-progress Visage Ease® mobile imaging results enhancements at the Radiological Society of North America (RSNA) 2015 annual meeting through December 3 in Chicago, Illinois, at Booth #1350, McCormick Place-South Building. Visage Ease is a native mobile solution of the Visage 7 Enterprise Imaging Platform, enabling enterprise imaging with amazingly fast, thin-client, server-side processing technology.
Reinforcing the simplicity, overall usability and scalability supported by Visage Ease, Visage is demonstrating the following new features as a work-in-progress:
Touch ID Fingerprint Recognition and Authentication – Supported by the iOS operating system, Touch ID enables authorized users to rapidly, easily and securely authenticate into Visage Ease with their fingerprint. This eliminates the need to manually enter username and password combinations, or saving their password with the application, which is not allowed by many healthcare IT organizations.
Multitasking Support with Slide Over and Split View – With iOS 9 on the iPad Pro, users may use Slide Over to open a second app without leaving Visage Ease. Additionally with Split View, users can go a step further and have Visage Ease and another app open at the same time. Of note, Visage is demonstrating app-to-app integration with Visage Ease via Split View mode.
Integrated Barcode Scanning – Supporting dozens of barcode and QR-code formats, Visage Ease allows users to scan patient barcodes, via wristband and/or other digital or paper patient documentation, to rapidly query for and conveniently display all of a patient's imaging studies available on Visage 7.
"The transition from film to digital provided significant improvements for diagnostic interpretation and wider access to imaging results, but often the data access in day-to-day workflow is still not as convenient as grabbing a physical piece of film," said Malte Westerhoff, PhD, Visage Imaging Co-Founder and Chief Technology Officer. "With our latest enhancements, Visage Ease is significantly easier for users to authenticate using Touch ID, mobile multitasking is supported with simple gesture-based interactions, and most importantly, we've eliminated the cumbersome need for manual entry of patient information. Because Visage Ease is a native component of Visage 7, all of a patient's imaging studies are always available. Now with a single barcode scan, providers can immediately access all of a patient's imaging results, exactly how it should be."
In addition to the aforementioned work-in-progress features, Visage is also demonstrating the released Visage Ease version 1.7.2, highlighted by multiplanar reformatting (MPR) capabilities. Using these MPR tools, users are able to reformat cross-sectional imaging studies on-the-fly, displaying multiple thick-slice preset presentations from original thin-slice data; AvIP, MIP and MinIP presentations; as well as re-orientation of the datasets (Anterior/Posterior, Left/Right, and Head/Foot).
In support of Visage Imaging at RSNA 2015, Visage is pleased to introduce the new Visage 7 video, "Faster. More Powerful. Enterprise Imaging[1]." To schedule a priority demonstration and/or meeting with Visage at the upcoming RSNA 2015, please visit this link[2] for additional details.
*Visage Ease is not a medical device and must not be used for diagnosis. For diagnostic mobile interpretation of all imaging studies other than mammography, users may use Visage Ease Pro.
About Visage Imaging, Inc.
Visage Imaging is a global provider of enterprise imaging and advanced visualization solutions for diagnostic imaging. Visage 7 delivers amazingly fast server-side rendered images streamed via an intelligent thin-client viewer. Radiologists and referring physicians have a customized, protocol-driven workflow to natively view multi-dimensional imagery across a single desktop, scaled to support the world's largest healthcare organizations. Powerful imaging solutions include enterprise viewing and interpretation; image enablement of EHRs, VNAs, HIEs and portals; RIS/PACS, as well as anywhere mobile diagnostic access. http://www.visageimaging.com[3]
About Pro Medicus Limited
Pro Medicus Limited [ASX: PME] is Australia's leading imaging IT provider. Founded in 1983, the company provides a full range of integrated software products and services to hospital, imaging centers and health care groups worldwide. http://www.promed.com.au[4]
# # #
Contacts:
Brad Levin, General Manager, North America and Global Head of Marketing
Visage Imaging, Inc.
Phone: (540) 454-9670
Visage, Visage Imaging, Visage Ease Pro, Visage Ease, ANV, and Deconstructed PACS are trademarks, registered trademarks and service marks that are licensed by Visage Imaging Inc. Other product and company names mentioned may be trademarks and/or registered trademarks of their respective owners or licensees.
Share article on social media or email:
References
More barcode news to rock your world!