Microscan Demonstrates One Barcode Imaging Device for all Automation Needs at SLAS 2017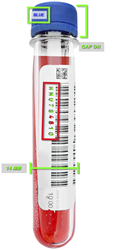 Renton, Washington, January 20, 2017 -- Microscan, the number-one brand of embedded clinical barcode readers and leading innovator of machine vision solutions for the life sciences, announces that it will demonstrate the MicroHAWK®[1] family of barcode readers – the world's smallest enclosed imaging devices for barcode reading and machine vision for clinical instruments – from Booth #1246 at the Society for Laboratory Automation & Screening (SLAS) Annual Conference and Exhibition[2], scheduled to take place February 6-8 at the Walter E. Washington Convention Center in Washington D.C., U.S.A.
Investing in flexible imaging devices today equips you to meet tomorrow's challenges. For more than thirty years, Microscan has continued to set benchmarks in device size, configurability, and performance for maximum component longevity within life science and OEM applications. This focus has made Microscan a leader in embedded imaging devices for clinical diagnostics instrumentation applications worldwide. With more than one million products sold, 100+ technology patents, and the most reliable, easily-upgradable devices at the smallest scale, Microscan leads the charge in the changing world of clinical automation.
Microscan imaging devices allow manufacturers and OEMs to upgrade clinical instruments, meeting and exceeding their automation needs. The MicroHAWK® family includes a fully-integrated imaging engine and three industrial-rated miniature imagers with unrivaled flexibility, ease of use, and universal application potential. Manufacturers can easily embed these devices to automate such processes as specimen and reagent identification and tracking, test tube cap presence and absence, cap type and color identification, dimensional measurements such as tube height and diameter, automated alignment and robotic guidance.
At SLAS 2017, Microscan will demonstrate how MicroHAWK®[3] takes clinical automation components from mini to micro to omni-capable. With Microscan's full range of machine vision tools and the ultra-compact MicroHAWK® platform, Microscan has once again achieved the world's smallest fully-integrated machine vision system. These new cameras lead the industry for flexibility in the most space-constrained installations, with selectable optics, sensor, lighting, and software all available in any device size and enclosure.
Microscan's LVS-7510 Print Quality Inspection System[4], which will also be on display, offers a label inspection solution that is custom-integrated with thermal printers, including leading brands like Zebra® and Printronix®. The LVS-7510 performs real-time label inspection for thermal labels including 1D/2D barcode verification, OCR, OCV, data serialization validation, blemish detection, and more.
Visitors to SLAS 2017 can experience interactive demos of MicroHAWK® Barcode Readers, MicroHAWK® Smart Cameras, and LVS Print Quality Inspection Systems from Microscan booth #1246. Members of Microscan's dedicated Clinical Solutions Team will be available to offer demonstrations and discuss custom projects. Learn more about Microscan at http://www.microscan.com[5].
About Microscan
Microscan is a global leader in barcode reading, machine vision, and verification technology serving a wide range of automation and OEM applications. Founded in 1982, Microscan has a strong history of technology innovation that includes the invention of the first laser diode barcode scanner and the 2D symbology, Data Matrix. Today, Microscan remains a leader in automatic identification and inspection with extensive solutions ranging from barcode reading, tracking, and traceability to complex machine vision measurement, guidance, barcode verification, and print quality grading.
As an ISO 9001:2008 certified company recognized for quality leadership in the U.S., Microscan is known and trusted by customers worldwide as a provider of high-quality, high-precision products. Microscan is a part of Spectris plc[6], the productivity-enhancing instrumentation and controls company.
Other bar code news:
Get The Bar Code News once a month, once a week or once a day. Subscribe here.
Follow us on Twitter: https://twitter.com/TheBarCodeNews
Follow us on Facebook: https://facebook.com/TheBarCodeNews