Xtreme Drilling Selects BuildSourced for Physical Asset Management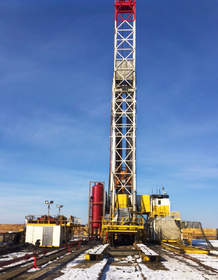 EDISON, NJ--(Jan 23, 2017) - BuildSourced, a technology company revolutionizing industrial asset tracking and analytics, was selected by Xtreme Drilling Corp., an international oil and natural gas drilling rig service provider, to implement its asset management system.
"With critical spare parts for our drilling rigs deployed across the United States and Canada, we seek to further minimize risk and avert the potential for operational downtime, while maximizing our management of capital," said Martin Ramirez, Vice President, Finance and Corporate Development, Xtreme Drilling. "Maintaining and managing our critical spares is fundamental to our operational success."
The BuildSourced asset tracking platform will replace the current manual systems to provide real-time data, increased efficiency and automated insights regarding the spare parts inventory, including the location and condition of all key spare parts.
"We are thrilled that Xtreme Drilling selected BuildSourced to help maximize their operational efficiencies," said Austin Conti, Founder and CEO, BuildSourced. "We are committed to providing our customers who drill for oil and gas with the newest and most powerful technologies that offer rich insights to help them track and monitor their entire fleet of equipment and parts."
Xtreme Drilling Corp. designs, assembles, and operates a fleet of onshore high specification drilling rigs featuring leading-edge proprietary technology modular transportation systems, and continuous integration of in-house advances in methodologies.
About BuildSourced
BuildSourced is an innovative technology company that uses Internet of Things (IoT) and cloud-based technology to deliver industrial asset tracking and analytics. Clients in construction, equipment rental, logistics, transportation and utilities rely on BuildSourced solutions to track and manage inventories of physical assets, equipment and materials, and gain increased control and maximum efficiency of their physical assets. BuildSourced's online public marketplace enables members to buy, sell rent or share their equipment and materials, creating a virtual shared economy for businesses across industries. For additional information visit BuildSourced at www.buildsourced.com.
Other bar code news: