Amalto Highlights 5 Critical Automation Best Practices for Accounts Receivable In New eBook
Houston, TX (PRWEB) July 18, 2017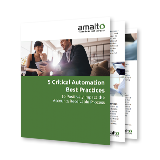 Supplier organizations are hungry for clear and concise guidance around developing processes to ensure customers can easily place orders, products and services are delivered on time, invoices are submitted efficiently, and invoices are approved and paid quickly. To help companies move toward higher performance in these areas, Amalto Technologies, the leader in Order-to-Cash, logistics and field data management, today published its new eBook 5 Critical Automation Best Practices to Positively Impact the Accounts Receivable Process. This eBook takes a deeper look at areas that organizations can optimize around order management, invoice submission, and Accounts Receivable.
"Streamlining multiple steps within the Accounts Receivable process is critical for organizations that need to make the leap from mediocre execution to best practice performance," says Jean-Pierre Foehn, Chief Executive Officer with Amalto. "With varying degrees of helpful information available in the public domain, we wanted to help organizations make better sense of the priorities they should be aware of in order to invoice efficiently and reduce DSO. We believe this eBook helps them do that."
This eBook will help organizations understand the keys to automating customer engagement, product delivery, invoice delivery and payment. In addition, Accounts Receivable and Order-to-Cash professionals will better understand portal and third-party network management as well as overall financial system integration.
The free eBook can be downloaded here or by visiting the Amalto website at https://www.amalto.com/.
About Amalto Technologies
Amalto Technologies is a leader in Order-to-Cash, Logistics and Field Data Management processes. Supporting customers worldwide with innovative automation solutions, Amalto leverages state-of-the-art technologies to facilitate the exchange of important business documents. Founded in 2005, Amalto maintains a presence in the US, Europe and Canada.
Amalto facilitates connection of all customers and Trading Partners, processing quote requests, sales orders, field tickets and invoices — all with the push of a button. Amalto offer solutions around quote automation, sales order automation, field data management and invoice automation.
Amalto also delivers the platform that allows for the exchange of business documents with all of your trading partners in a private, secure and customized environment as well as the ability to make a positive impact on your supply chain and overall business.
To learn more about Amalto and how it can provide automation expertise for your business, visit http://www.amalto.com/.
Other Barcode News: