Janam Delivers Value-Driven, Rugged Smartphone With Bar Code Scanner, RFID Reader
Sleek XT100 offers more features and functionality than any other device in its class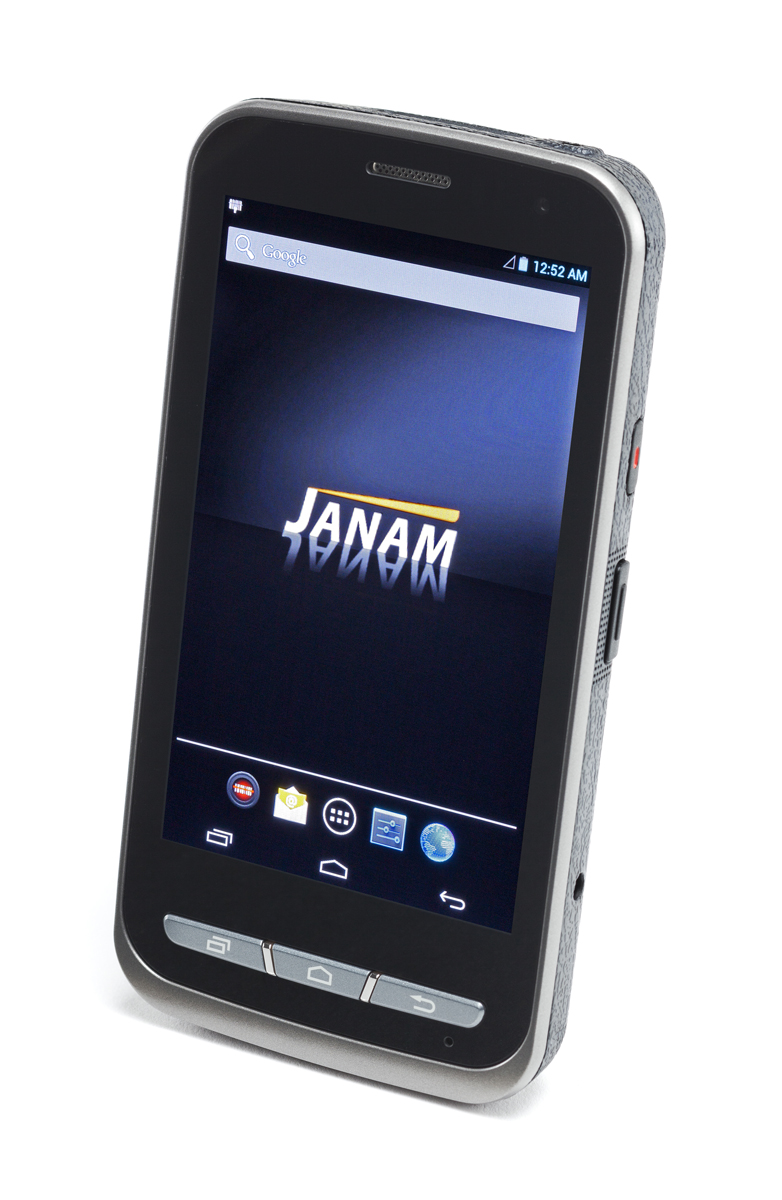 WOODBURY, New York – March 1, 2018 - Janam Technologies LLC, a leading provider of rugged mobile computers that scan barcodes and communicate wirelessly, today announced the launch of the XT100 rugged touch computer. Packed with every business-critical feature that enterprise organizations require, the XT100 surpasses its competition by delivering the latest enterprise-grade technologies in a stunning package, all at an extremely attractive price point.
The XT100 packs the power and performance of an industrial rugged mobile computer in a slim smartphone design and is built to survive demanding work environments. The pocket-sized XT100 withstands repeated 4 foot/1.2 meter drops to concrete and is sealed to IP65 standard for protection against water, dust and extreme temperatures, providing reliable performance in every industry, including retail, field service, hospitality, warehouse, distribution and direct store delivery. A standard 2-year warranty provides customers with both peace of mind and the level of service they require, at no additional cost, with optional Comprehensive Service plans available to those that want to further extend their mobile computing investment.
KEY FACTS
· With support for the widely deployed Android 6 operating system, the XT100 offers an intuitive, well-regarded user interface to help reduce training time and drive immediate productivity gains for businesses of all sizes. Certification of Google Mobile Services (GMS) ensures XT100 users have access to all Google APIs, including those for Google PlayTM, Google MapsTM and ChromeTM.
· Featuring a brilliant 4.3-inch touch screen with Corning Gorilla® Glass 3, wide-viewing angle and daylight readability, the XT100 provides optimal performance indoors and outdoors.
· The XT100 addresses the most demanding data capture requirements with integrated Honeywell N6603 2D barcode scanning technology, 13MP/2MP rear- and front-facing cameras and NFC and RFID reading capabilities to ensure users can perform tasks with unparalleled speed and accuracy.
· Blazing fast 4G LTE connectivity, dual-band Wi-Fi, Bluetooth 4.0 and GPS provides instantaneous access to business-critical information, empowering mobile workers to respond to customer needs faster and more effectively.
· The XT100 is the only device in its class to include a removable and rechargeable 3000mAh Li-ion battery to ensure uninterrupted performance throughout the workday. Optional wireless charging capabilities increase productivity, efficiency and safety in industrial applications.
About Janam
Janam Technologies LLC is a leading provider of rugged, handheld computing devices for mobile workers. Janam combines deep industry knowledge with advanced technologies to deliver products and accessories that increase productivity, reduce costs and improve customer satisfaction. Specializing in purpose-built mobile computers that scan barcodes and communicate wirelessly, Janam offers products that are designed to run mission-critical applications in retail, healthcare, hospitality, manufacturing and logistics. For more information, visit www.janam.com.
--
More bar code news:
The Bar Code News (
www.barcode.com
), now in its 9th year, does not sell software, hardware, bar code products or services. Use the links on the left side menu to find the products or services you need. Want to reach us? See the links on the Footer menu below.
Please let vendors know you've seen them here.