RSi and Logística de México (LDM) Join Forces to Accelerate Latin America Expansion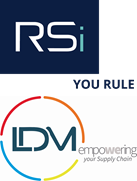 SAN JOSE, Calif. (PRWEB) November 06, 2019
Retail Solutions, Inc. (RSi), the leading provider of AI-driven technology solutions that enable CPG manufacturers and retailers to grow and profit, today announced an exclusive partnership with Latin America's leading supply chain consulting and technology services provider, Logística de México (LDM). The new partnership enables both companies to increase significantly their presence and penetration in the rapidly growing, multi-billion-dollar market across Latin America for digital transformation technology solutions that help CPGs and retailers to maximize on-shelf availability, optimize supply chain and in-store productivity, and increase sales.
Building on their existing successful business relationship in Mexico, RSi and LDM are making a significant investment to expand into the greater LATAM market, delivering proven, powerful technology solutions to CPG and retailer clients in major countries such as Colombia, Chile, Peru, Argentina, and others in Central America.
The LATAM consumer products market has been experiencing strong growth, driven by disruptive retail trends such as the rise of e-commerce and the associated shift to omnichannel shopping, as well as consumers' increasing demand for greater convenience, choice and value. Just as they are doing in other major markets around the world, CPG companies and retailers in Latin America are adopting sophisticated technology solutions to ensure that they meet and exceed consumers' expectations by always having the right products, on the right shelves, at the right times.
"We are thrilled to be partnering with LDM to help regional and global CPG manufacturers and retailers to maximize their LATAM growth strategies, from supply chain to shelf," said Bert Clement, Chief Executive Officer of RSi. "This unique partnership leverages RSi's unmatched global domain experience and technology leadership with LDM's deep regional knowledge and strong local presence in LATAM. We are already working closely with LDM to deliver regionally-tailored technology solutions that drive significant competitive advantages for CPG manufacturers and retailers in the high growth LATAM markets."
"RSi and LDM jointly deliver the most advanced supply chain solutions with a clear and superior ROI for CPG suppliers and retailers," said David Lati, Managing Director of LDM. "We look forward to building on our strong, mutually-beneficial relationship with RSi to capitalize on the significant expansion opportunities in LATAM, which is one of the world's fastest growing and most dynamic markets for both consumer products and advanced technology solutions such as the ones we offer."
"Our deepening partnership with David and his superb LDM team is a game changer for the rapidly expanding retail industry across LATAM," said Kirk W. Wheeler, Senior Vice President of Global Sales and Marketing for RSi. "RSi already works with 27 of the world's top 30 CPG companies and the leading retailers in North America, Europe and China. Together with LDM, we are now accelerating the introduction of RSi's industry-leading technology products and solutions throughout the LATAM region. Our joint RSi/LDM solutions and services empower CPGs and retailers in LATAM to solve major industry problems like out-of-stocks, lagging promotional ROI, and increasing costs. Equally important, we will also work with LDM to help retail brands and companies in LATAM to capitalize on the exploding consumer shift to omnichannel shopping."
By combining RSi's unparalleled global retail expertise and digital technology solutions with LDM's specialized in-region supply chain consulting, implementation and training services, the new partnership will help CPG manufacturers and retailers to achieve the following business-building benefits:
Maximize on-shelf availability and recapture millions in lost sales with AI-driven predictive and corrective technology alerts
Optimize go-to-market strategies that connect in-store execution with omnichannel programs
Increase in-store profitability, productivity and promotional ROI
Reduce operational and inventory-related costs across the supply chain and in-store
# #
More bar code news: