ALL-TAG Expands Product Line to Include RFID-Ink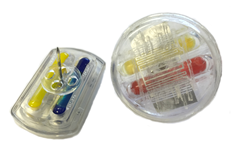 Boca Raton, Florida (PRWEB) June 14, 2016
ALL-TAG, a leading manufacturer of anti-theft Security Tags, Security Labels, and other loss prevention products, announces the release of RFID-Ink, the world's first product to combine RFID technology with an ink component.
The RFID-Ink is another ALL-TAG innovation that allows retailers to combine EAS and RFID technologies into a single tag.
ALL-TAG Vice President of Sales, Andy Gilbert took a moment to expand on this new combination product, "This product is essentially an Ink Tag with an RFID circuit embedded inside of the plastic shell. Retailers can now use a single tag to protect their merchandise from theft (ink), as well as perform inventory tracking, and other RFID related functions."
The RFID-Ink can be connected to merchandise using Sensormatic SuperTags®, Checkpoint Mini Tags, and any other AM or RF EAS Tags for double measure of protection against theft.
RFID-Ink will be on display at the National Retail Federation (NRF) Loss Prevention Conference & Expo, in Philadelphia, Pennsylvania from June 15 – 15, 2016 at ALL-TAG booth #1520.
For more information about RFID-Ink or ALL-TAG, please visit http://www.ALL-TAG.com.
About ALL-TAG:
ALL-TAG manufacturers Electronic Article Surveillance (EAS) products and services designed to help retailers protect their merchandise from shoplifting. The company is the currently the second largest global manufacturer of 8.2 MHz Radio-Frequency (RF) anti-theft labels behind Checkpoint Systems Inc.. The original ALL-TAG RF Label factory, located in Manage, Belgium, began producing RF Labels for source-taggers and retailers throughout the world in 1992. ALL-TAG Corporation, located in Boca Raton, Florida USA, opened in 2000 as a global sales and marketing office. In July of 2011, ALL-TAG launched a new production facility to manufacture RF labels in the United States. The new factory supplies RF Labels to our US customers, as well as many other customers around the world. The company also has an inventory warehouse in Hong Kong and the United Kingdom to ensure timely deliveries to our many customers in those regions.
---
Other Bar Code news blogs that may interest you: