AerNos and MPS to Deploy Smart Parking Meters with Air Pollution Monitoring Capability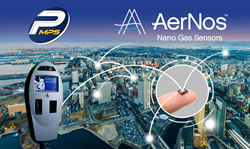 AerNos, Inc., an innovator in nano gas sensors and MPS, Inc. an innovator in Internet of Things (IoT) connected Smart Parking Meters, today announced a collaboration to bring AerNos multi-gas sensing capability to MPS's smart city parking meter deployments, giving cities – for the first time – the ability to track air pollution, climate gases and infrastructure leaks at a granular level 24/7.
The AerNos sensor will add air pollution monitoring capabilities to MPS' already robust sensor based parking platform, which is being deployed on street and off street in Smart Cities across the US and Canada. Tiny, accurate and affordable, AerNos breakthrough nano gas sensors are configured to simultaneously detect multiple harmful gases to the parts per billion and are specifically designed to integrate with IoT devices, like smart meters, which are increasingly powering smart city initiatives.
With more than 90% of urban populations exposed to unhealthy air quality and cities worldwide competing to be smart city leaders, the AerNos and MPS collaboration provides an immediate opportunity for cities to deploy new tools to reduce exposure to air pollution and to improve the health and wellness of citizens.
At CES 2018 AerNos will showcase an MPS smart meter with its nano gas sensor embedded. AerNos will be located at booth #42367, Tech West, Sands Expo, upper level. MPS executives will be present to discuss their meters and the AerNos collaboration with visitors.
"Smart city initiatives promise to improve quality of life, drive an innovative economy and create a more sustainable environment for all," said Sundip R. Doshi, Founder and CEO of AerNos. "We are thrilled to partner with MPS to bring the sense of smell to cities in a meaningful way and to improve the lives of their citizens."
"We have seen our parking sensors deliver incredible results to smart cities across the US and Canada. Adding AerNos sensors to our platform is a logical extension for us to further serve our cities with measurements and opportunities for air quality improvements, said Brian Cassidy," CEO of MPS.
AerNos nano gas sensors are tiny, detect multiple gases simultaneously and are low powered System on Chip (SoC) designed to easily integrate into the Internet of Thing (IoT) devices. These sensors can detect gases and their concentration for various applications including environmental monitoring, food safety and spoilage, homeland security, industrial and manufacturing and healthcare applications.
About MPS
Municipal Parking Services (MPS) designs and manufactures a cloud based smart city parking platform. The platform includes a meter/kiosk and sensors that work with a smart phone application. Cities benefit from the measurement of occupancy, compliance, enforcement, sidewalk foot traffic and public safety provided by the platform. Consumers benefit because they can find and pay for parking in seconds instead of minutes. MPS' Sentry mobile, an app available in iTunes and through the Google Store, provides consumers with turn by turn direction to open parking spots in real-time and allows them to pay for parking via their mobile phone.
About AerNos
AerNos, Inc develops application specific nano gas sensors based on its breakthrough and proprietary AerCNT Technology to detect harmful gases in the environment. AerNos nano gas sensors are designed to be easily integrated into consumer and commercial product lines such as standalone monitoring devices, non-stationary devices (drones, industrial robots, construction equipment, etc.), modes of transportation, wearables, smartphones and the Internet of Things (IoT).
Other Barcode News