KOAMTAC Adds New Samsung Smartphone Cases for KDC470 SmartSled® Solution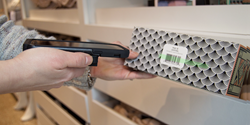 Whether they are working in the warehouse, in a retail environment or in logistics, seamless charging and integration with our scanners takes efficiency to the next-level"
PRINCETON, N.J. (PRWEB) February 08, 2018
KOAMTAC, Inc., a leading manufacturer of Bluetooth® barcode scanners, RFID readers and mobile point of sale (mPOS) companions is expanding its line of accessories, adding four new SmartSled cases for the Samsung Galaxy Tab Active2, J3 2017, J7 2017 and the XCover4.
Innovative KDC470 SmartSled modular design allows you change Smartphone case freely while maintaining barcode and RFID module. KDC470 also allows user to build various configuration including protective charging case, barcode/RFID reader, extended battery pack, and pistol grip.
The KDC470 is equipped with high performance 1D or 2D barcode scan engine and provides convenient, fast and delicate scanning performance compared to camera based solution. SmartSled cases allow you charge both the Samsung Galaxy device as well as your KDC470 barcode/RFID reader simultaneously using a Micro USB or Charging Cradle. You can transfer data through a USB or Bluetooth with the SmartSled cases.
"So many businesses utilize Samsung Galaxy devices to help them operate efficiently. Whether they are working in the warehouse, in a retail environment or in logistics, seamless charging and integration with our scanners takes efficiency to the next-level," explained Dr. Hanjin Lee, President/CEO of KOAMTAC.
KOAMTAC will have the KDC470 available for demos along with the brand-new Samsung Galaxy cases, in booth 3I10 and 7K30 at Mobile World Congress from February 26 - March 1, 2018 at Fira Gran Via in Barcelona. You can also visit KOAMTAC at booth 262 at HiMSS, from March 5-9, 2018 at the Venetian Palazzo Sand Expo Center in Las Vegas, NV; booth RT1205 at Retailtech Japan from March 6 – 9 at Tokyo Big Sight in Tokyo, Japan; booth H6-A57 at LogiMAT from March 13 – 15 at Messe Stuttgart, Stuttgart, Germany.
About KOAMTAC
KOAMTAC, Inc., headquartered in Princeton, New Jersey, produces a signature line of lightweight, ergonomically-friendly Bluetooth barcode scanners. With its unique patented design, all KOAMTAC products reduce the carbon footprint for the industry and provide consumers with a durable and enhanced solution. All products are universally compatible across current technology platforms and offer seamless use with various devices. The KDC20, KDC30, KDC100, KDC200, KDC250, KDC270, KDC300 and KDC350 are compact and light programmable Bluetooth and Wi-Fi barcode and NFC readers with a display on the market today. The KDC400 series are patented modular design SmartSled® for single-handed utility. The KDC500 is an EMV/MSR/Barcode/NFC Mobile POS Companion. For additional information or to place an order, visit http://www.koamtac.com, email the team at This email address is being protected from spambots. You need JavaScript enabled to view it. or call 609-256-4700. Join in on the conversation on Facebook, Twitter, and LinkedIn.
Credit Notice:
KDC ®, KoamTac ®, KOAMTAC ®, SmartSled ®, KoamTacON® and KTSync® are registered trademarks of KOAMTAC, Inc.
Bluetooth® is a registered trademark or trademark of Bluetooth SIG, in the U.S. and other countries.
All other product and company names used herein are trademarks™ or registered® trademarks of their respective holders. Use of them does not imply any affiliation with or endorsement by the respective trademark holders.
More bar code news: