Arrive Logistics Selected For Entrepreneur Of The Year 2018 Award Finalist in Central Texas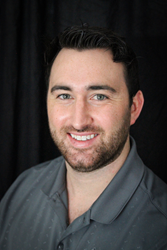 To be recognized by EY alongside my business partner and close friend Eric for this prestigious honor is very humbling.
AUSTIN, Texas (PRWEB) May 04, 2018
EY today announced that CEO, Matt Pyatt, and President, Eric Dunigan, of Arrive Logistics are finalists for the Entrepreneur Of The Year® 2018 Award in the Central Texas region. The awards program recognizes entrepreneurs who are excelling in areas such as innovation, financial performance and personal commitment to their businesses and communities. Matt Pyatt and Eric Dunigan were selected as finalists by a panel of independent judges. Award winners will be announced at a special gala event on June 8th, 2018 at the JW Marriott in Austin, Texas.
"Eric and I are excited and flattered to be named finalists for this year's EY Entrepreneur Of The Year® Award," said Matt Pyatt, CEO of Arrive Logistics. "It is a unique privilege for us to lead an organization made up of such outstanding, hard working people who are all dedicated to redefining the modern broker experience. To be recognized by EY alongside my business partner and close friend Eric for this prestigious honor is very humbling."
Since 2014, Arrive has worked tirelessly to redefine what it means to be a freight broker; giving partners more by putting proprietary technology, unprecedented operations, and customer service at the forefront of everything they do. What was once a 10-person team based in Austin, Texas is now a team of more than 400 people spanning two major U.S. cities (Chicago and Austin). The business has skyrocketed from an already-impressive $30M in first-year truckload sales, to $145M in 2017, to an on-track projection of more than $330M by the end of 2018. Because of these business milestones, Arrive Logistics is proud to claim the title of fastest-growing freight broker in the United States.
Now in its 32nd year, the program has expanded to recognize business leaders in more than 145 cities and more than 60 countries throughout the world.
Regional award winners are eligible for consideration for the Entrepreneur Of The Year National competition. Award winners in several national categories, as well as the Entrepreneur Of The Year National Overall Award winner, will be announced at the Entrepreneur Of The Year National Awards gala in Palm Springs, California, on November 17, 2018. The awards are the culminating event of the Strategic Growth Forum®, the nation's most prestigious gathering of high-growth, market-leading companies.
Sponsors
Founded and produced by EY, the Entrepreneur Of The Year Awards are nationally sponsored in the US by SAP America, the Kauffman Foundation and Merrill Corporation. In Central Texas, sponsors also include Broadway Bank, Colliers International, ADP, Aventine Hill Partners, Bridgepoint Consulting, Watkins Insurance Group, Shearman & Sterling, the Austin Business Journal and San Antonio Business Journal.
More About Arrive Logistics
The Arrive difference comes from how they train and foster their employees' development, because that investment directly translates into how they care for their customers and carriers. It's a virtuous cycle that has validated their theory that shippers and carriers want more out of their supply chain partners. For more information, please visit http://www.arrivelogistics.com.
About Entrepreneur Of The Year®
Entrepreneur Of The Year®, founded by EY, is the world's most prestigious business awards program for entrepreneurs, chosen from an independent panel of judges including entrepreneurs and prominent leaders from business, finance, and the local community. The program makes a difference through the way it encourages entrepreneurial activity among those with potential and recognizes the contribution of people who inspire others with their vision, leadership and achievement. As the first and only truly global awards program of its kind, Entrepreneur Of The Year celebrates those who are building and leading successful, growing and dynamic businesses, recognizing them through regional, national and global awards programs in more than 145 cities and more than 60 countries. ey.com/eoy
-- more news: