Esker Named to Food Logistics' 2017 FL100+ Top Software and Technology Providers List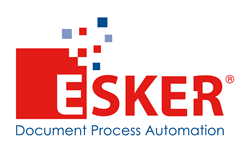 Food Logistics, the only publication exclusively dedicated to covering the movement of products through the global food supply chain, has named
Esker,
a worldwide leader in
document process automation solutions
and pioneer in cloud computing, to its 2017 FL100+ Top Software and Technology Providers list.
The annual FL100+ Top Software and Technology Providers list serves as a resource guide for software and technology suppliers whose products and services are critical to companies in the global food and beverage supply chain.
"New developments and innovations in the software and technology sector are making sizeable impacts on the global food supply chain," says Lara L. Sowinski, editorial director for Food Logistics and its sister publication, Supply & Demand Chain Executive. "The result is a greater visibility, improved regulatory compliance, enhanced shelf life for perishables, and the emergence of a more proactive and nimble food supply chain that benefits both the food industry and its logistics partners, as well as the end consumer."
Food and beverage is among the few industries experiencing consistent growth. When companies encounter larger volumes of incoming orders, processing documents both quickly and accurately becomes more challenging. These challenges can be exacerbated by problems that warehouse distributors and manufacturers experience every day. Problems range from errors that result in incorrect shipments, inefficiencies in getting data into back-office systems and delays in processing orders for perishable items. Esker's cloud-based solutions address these issues and allow food and beverage companies to trim costs, ensure timely delivery of goods and increase order processing efficiency.
"Esker is honored to be recognized once again as a top technology provider in the food and beverage industry," said Steve Smith, U.S. chief operating officer at Esker. "We aim to provide our clients the most value by giving organizations the tools to improve supplier relationships, cut costs and streamline complicated business processes that can arise throughout the supply chain."
Companies on this year's 2017 FL100+ Top Software and Technology Providers list will be profiled in the November/December 2017 issue of Food Logistics, as well as online http://www.foodlogistics.com.
About Food Logistics
Food Logistics is published by AC Business Media, a business-to-business media company that provides targeted content and comprehensive, integrated advertising and promotion opportunities for some of the world's most recognized B2B brands. Its diverse portfolio serves the construction, logistics, supply chain and other industries with print, digital and custom products, events and social media.
About Esker
Esker is a worldwide leader in cloud-based document process automation software. Esker solutions, including the acquisition of the TermSync accounts receivable solution in 2015, help organizations of all sizes to improve efficiencies, accuracy, visibility and costs associated with business processes. Esker provides on-demand and on-premises software to automate accounts payable, order processing, accounts receivable, purchasing and more.
Founded in 1985, Esker operates in North America, Latin America, Europe and Asia Pacific with global headquarters in Lyon, France and U.S. headquarters in Madison, Wisconsin. In 2016, Esker generated 66 million euros in total sales revenue.
Other Barcode News: